Dedicated COVID-19 Unit Open at Laurelhurst Village
Press Release
-
updated: Apr 28, 2020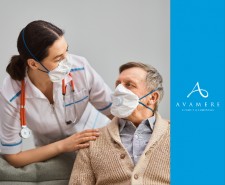 PORTLAND, Ore., April 28, 2020 (Newswire.com) - ​Laurelhurst Village, an assisted living and skilled nursing community, in partnership with Oregon Department of Human Services (DHS), opened a dedicated standalone facility considered an Emergency Health Care Center (EHCC) for patients with COVID-19. Laurelhurst Village is managed by Avamere. 
The 47-bed unit has all private rooms and occupies its own building on the property, providing a dedicated place for individuals with COVID-19 to transition from a hospital or other assisted or skilled nursing facilities that are currently unable to care for these medically fragile patients to home.
"The development of the EHCC in concert with the state was a natural fit for Avamere in serving this need for our community," stated Elizabeth Burns, MD, Chief Medical Officer for The Avamere Family of Companies. "We pride ourselves on a history of proactive, highly skilled, compassionate clinical care. This opportunity has given our healthcare heroes the path to demonstrate what they were prepared to do – it is a rally call to serve and care for the most vulnerable populations with a sense of urgency, purpose, and passion." 
The Avamere Family of Companies implemented proactive strategies to fight COVID-19 within hours of the Feb. 29, 2020, announcement of the first COVID-19-positive skilled nursing facility in Washington State. Actions to limit possible exposure included limiting visitors, aggressive screening protocols for staff and visitors, and providing education and infection control competency evaluations for all workers. 
"We implemented universal masking and broad-based testing strategies prior to the CDC recommendations," stated Carl Tabor, Executive Vice President of Quality for The Avamere Family of Companies. "Our facilities have stayed one step ahead of recommendations, and we continue to revise our policy and educate our facilities to revisions from CDC and local health departments." 
​Laurelhurst Village is currently accepting new patients from hospitals or the local Portland community, following a review of clinical care needs and approval from the Department of Human Services. 
Before returning to their primary place of residence, patients must have two negative COVID-19 tests with 24 hours in between testing, a process approved by the State of Oregon.  
"We are grateful for the relationship we have with the state and their quick action in pushing into motion a unit like this," said Troy Perry, Administrator at Laurelhurst Village. "It is a privilege to be able to serve our community in this capacity through this pandemic." 
About The Avamere Family of Companies 
Founded in 1995 and based in Wilsonville, Oregon, The Avamere Family of Companies provides assisted living, independent living, memory care, rehabilitation, home care, transitional care, and more. Today, Avamere's diverse companies operate in over 250 locations across 19 states with over 8,800 employees. Avamere is proud to be considered one of Oregon's most admired companies as it continues to serve its valued patients and residents. For more information, visit avamere.com.  
The Avamere Family of Companies 
25115 SW Parkway Ave, Suite B 
Source: Avamere Health Services
Share:
---
Categories: Healthcare and Medical News
Tags: Alzheimer's, assisted living, Avamere, Avamere Family of Companies, COVID-19, healthcare, independent living, Laurelhurst Village, memory care, senior care, senior living
---