Decorated Veteran and Entrepreneur Art Drew Announces Bid for Presidential Race of the United States
As a 3rd Party Presidential candidate, Art Drew is launching his independent campaign for the 2016 Presidential Election by calling on veterans in the U.S to rally around his platform and presidential bid.
Press Release
-
Sep 22, 2016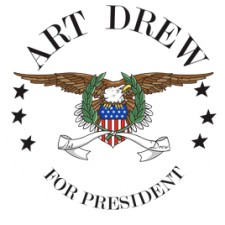 Fredonia, Pennsylvania, September 22, 2016 (Newswire.com) - Art Drew, an Air Force veteran and entrepreneur, announces good news for all Americans who have been waiting for "a true American patriot." With a nonpartisanship platform that focuses on the addressing current issues facing the United States, Drew brings his military background and innovative thinking in bridging a path forward for a better country.
Drew has decided to enter the 2016 presidential race and step forward to be Commander-in-Chief while carrying out the traditions that made the United States the "Land of the Free and the Home of the Brave." According to Drew, if he wins the election, he plans to select a vice president that is also a patriot, veteran and military hero who knows his way around Washington.
"I'm stepping forward as an American patriot that is free of baggage and encumbrances like charges of criminal conduct, greed and ill will to anyone," says Drew. "I'm ready to assume the responsibility that goes with the presidency, and to protect such things as our Constitution, which has protected our freedoms for more than 200 years. I want to ensure that we continue to protect "Life, Liberty and the pursuit of Happiness."
One of the issues Drew is most focused on is the American economy. If elected president, Drew would give incentives to build new manufacturing factories to replace World War II structures. He is also in favor of not accepting any more loans from China. In addition, Drew would like to see a decrease in the cost of electrical power for manufacturing and residential consumption by providing nuclear energy under military control. Vehicles will be electric with a few exceptions, which will also help in the reduction of global warming.
"I not only talk the talk, I walk the walk. Other candidates talk the talk but have never put on a military uniform, and did the walk, earning their DD214 and their honorable discharge," adds Drew. "The other candidates have not earned the right to be a member of the Veterans of Foreign Wars as I did or gain the related military experiences to serve as Commander-in- Chief."
Drew was born in a rural farming and industrial community in Pennsylvania and has been working hard his entire life. After graduating from the public school system, Drew started work as a barber and then joined the United States Air Force. He attended college while serving with the Air Force in Washington State before being deployed to Vietnam from 1965 to 1966.
After his tour with the Air Force, Drew maintained his passion for flying and worked as a commercial pilot as well as owning and operating his own charter air service and flight school. Later, Drew reduced his aviation activities to focus on developing an electrical service company focused on industrial manufacturing. This business was the beginning of a career that lasted more than 20 years, servicing electrical and manufacturing equipment throughout the United States and internationally.
After his long military and business career history and raising three children with his wife Cheryl, Drew wants to take the same work ethic and devotion to getting things done that he has used throughout his whole life to a bigger stage. Drew is ready to continue his long history of serving his country by raising the quality of life for all Americans as the President of the United States.
To learn more, visit www.artdrewforpresident.com.
About Art Drew
Art Drew is a Vietnam veteran from the Air Force. He is an American Patriot born and raised in the United States who has stepped forward as an independent candidate for the 2016 presidential election. To learn more about Drew, visit www.artdrewforpresident.com.
Media Contact:
Art Drew for President
Email: CONTACT@ARTDREWFORPRESIDENT.COM
Source: Art Drew for President
Share:
---
Categories: Elections, Politics, National News, State News, Government News
Tags: 2016 presidential election, 3rd Party Presidential candidate, military, nonpartisanship, patriot, president, veterans
---