Deck Builder Near Me - Platinum Decking Barrington - Trex Deck
Spring is finally here, and it is time to replace your old deck with a new low-maintenance Trex deck with your local deck builder!
Press Release
-
updated: Apr 23, 2019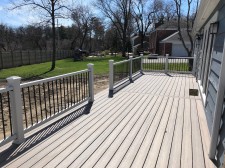 BARRINGTON, Ill., April 23, 2019 (Newswire.com) - As one of the premier deck builders in the Chicago suburbs, Platinum Decking is here to help you enjoy your summer like never before, with a new low-maintenance composite deck. ​​
Winter has finally come to an end, and while the warm weather is certainly being welcomed by Chicagoland residents with open arms, spring brings its own challenges. Homeowners are confronted with what emerges from the snow and cold, and many times, this confrontation ends with a laundry list of different projects the house needs.
One of the most reliable items on this list is the front porch or back deck. Despite the best of efforts, the reality of Illinois winters and springs trumps even the best-maintained decks. Annually or biannually, homeowners sink money and time into staining a wood deck that will inevitably go back to the same splintered, peeling condition in a year or two.
Many homeowners figure that the "Band-Aid" approach of maintaining their decks isn't working and isn't worth it. A new deck needs to be built, one that isn't a yearly pain and looks great year-over-year.
A quick Google search leads you to composite decking: a low-maintenance, decades-lasting material. But where to go from here? Another search for "Deck builder near me" pulls up multiple companies, many of which don't specialize in composite decking. What's worse, many options are more handymen than deck builders.
Enter Barrington's composite deck specialist, Platinum Decking. Owned and operated by three residents of Barrington, Naperville and other northwest suburbs of Chicago, Platinum Decking is a composite-only deck construction company.
"We saw a clear need in the market. A lot of homeowners we talked to were fed up with their wood or cedar deck," said Kyle Lindsey, one of the owners of Platinum Decking. "Whether they were entertaining friends, hosting the neighborhood kids or just relaxing after a long day, the satisfaction level with their deck was getting lower each year."
While the cost of composite decking materials is generally two or three times the initial cost of pressure-treated lumber, the yearly or biannual maintenance is next to none. A power wash, or a soft-bristle brush with a bucket of soapy water, will do the trick each year. The best part? This is one project the homeowner will see, feel and be able to truly enjoy.
"My clients are most excited for this project out of all the other projects they have to do in the future or have already done," said Matt Rudig, Platinum Decking's Director of Sales and Operations. "This isn't putting on a new roof or installing new windows. This is effectively adding an extension of your house -- a beautiful, functional new outdoor living space you can enjoy for the next two to three decades."
Platinum Decking is currently giving free estimates for resurfacing your wood deck, or building a brand new one, in the northwest suburbs from Grayslake to Naperville. 
Please call 224-634-4345 or check here for a free quote.
Source: Platinum Decking
Share:
---
Categories: Construction
Tags: Deck builder near me, Local deck builder, Trex Deck
---