December Marks Zempleo's 15th Year in Business
Press Release
•
updated: Dec 29, 2020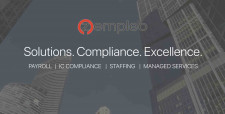 SAN DIEGO, December 29, 2020 (Newswire.com) - Zempleo, a certified Minority-Owned Business (MBE) delivering integrated talent management solutions, achieves an important company milestone – 15 successful years servicing payroll, staffing and independent contractor compliance for large Fortune 500 and progressive companies throughout the United States.
In 2005, Zempleo's humble roots began with a dream to be the largest diversity supplier for staffing services. "While bottom line and growth were important, we wanted to be a different partner, one that truly cared about our employees and customers. The goal was to really listen, deliver creative solutions and be a partner that could grow together. The tenure of our team and most of our clients have been with us since the beginning, which is a testament to this," stated Sabrina Chisholm, President of Zempleo.
From the early days when the company opened its first small office in Lafayette, CA, Zempleo had big plans and after securing its biggest account in the energy sector, more employees and offices have been added to the team. Over time, the company has opened additional offices from the West Coast to the East Coast.
As Zempleo's client base continues to grow, the Zempleo team continues to provide unparalleled excellence in service. According to Lahka Egbert, VP of HR Operations, "Our ability to provide unbelievable service to our clients is derived from the team's ability to stay true to our core values of transparency, empowerment, and commitment to overall partnership, while easily adapting to the everchanging landscape of our client needs."
As Zempleo celebrates its past, it also looks to its future. The organization is set to continue to expand its footprint and to differentiate itself through innovative and creative solutions. "As we celebrate this milestone anniversary, we also look forward to a bright future for Zempleo," said Steve Mann, Executive Vice President. "We are excited to expand our services globally, offer new and innovative "total talent" solutions, and continue to be recognized as an invaluable partner to our customers."
With hard work and determination, Zempleo has claimed their space in the staffing industry and is passionate about keeping the legacy of Zempleo alive, as one of the largest Minority Owned staffing businesses in the United States.
Source: Zempleo
Tags
Additional Links