Dealer Simplified, LLC Has Strategically Partnered With Dominion Dealer Solutions.
Press Release
•
updated: Nov 2, 2017
This strategic partnership brings Dealer Simplified's Wholesale Auto Auction to Dominion Dealer Solutions already extensive product set.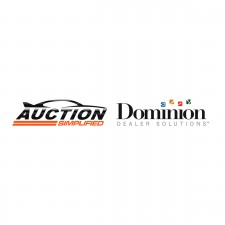 WEST SENECA, N.Y., November 2, 2017 (Newswire.com) - Dealer Simplified, LLC, the industry leader in high-quality automotive wholesale auctions, has strategically partnered with Dominion Dealer Solutions. Through this initiative, dealers utilizing any of Dominion's customer relationship management (CRM) tools (such as DealActivator, Autobase, and Web Control) now gain access to Dealer Simplified's automotive auction solution, Auction Simplified, and its wholesale buyers network.
This strategic partnership brings Dealer Simplified wholesale solutions to Dominion Dealer Solutions' already extensive dealer product set. Auction Simplified provides dealers with a mobile auction app and desktop solution that facilitates real-time live bidding from franchise dealers to wholesale buyers. Automotive dealers using Auction Simplified's national wholesale buyer marketplace and award-winning training currently experience a first-time sell rate of 81 percent, with increasingly profitable wholesale operations.
Selling your wholesale cars faster, without seller fees and in a profitable way is the key to efficient wholesale remarketing in the modern age.

Dave Kaiser, Co-Founder and CMO
Dealer Simplified's best-in-class auction service and know-how offers dealers a streamlined process to both dispose of wholesale trades and increase wholesale profitability. Dealers will be able to wholesale inventory faster with CFO friendly tracking, reporting and cashiering — all at a much lower cost than alternative auction options.
"The unique feature of Auction Simplified that usually comes as a surprise to dealers is that it's essentially free to the franchise dealer. Other than a small initial set up fee, there are no sellers fees or monthly fees for the franchise dealer and the buyer's fee is 200 percent lower than industry average," said Kevin Leigh — Co-founder and COO of the company.
Included in the auction service:
MARKETING: Auction Simplified provides selling dealers access to local and national buyers and handles all the marketing including: invitations, recurring phone calls, email blasts and text notifications.
WEBSITE: Dominion Dealer Solutions' customers using the Auction Simplified platform will be provided with a wholesale website to promote their bid sale free of charge.
INTEGRATION: The Auction Simplified software integrates flawlessly with automotive inventory tools, reducing data entry and VIN errors. It also integrates with CarFax and Autocheck, which helps provide free history reports to buyers.
TITLE MANAGEMENT: Built into Auction Simplified is a robust title management system allowing the billing and accounting office to keep internal notes and track titles and liens.
BIDDING: Buyers can bid from the car with the Auction Simplified smartphone app or at their office using the full-featured desktop solution.
CASHIERING and REPORTING: With Auction Simplified the dealer gets everything they need to run their own wholesale auction or bid sale.
About Dealer Simplified, LLC
Founded by a group of automotive industry veterans determined to provide dealers and independent auto auctions with a new way to manage their wholesale business, Dealer Simplified™ launched groundbreaking technologies and proven processes that empowered dealers and auctions to improve their wholesale profitability. For more information visit our website, like us on Facebook or follow us on Twitter.
Media Contact
Kevin B Leigh
716-818-4444
kevin@dealersimplified.com
Source: Dealer Simplified, LLC
Additional Links