DCT Talks Releases Latest Podcast Episode 111: 'Ugly Cow'
DCT Capital Fund releases a new episode of DCT Talks starring Joseph Jackson, founder of DCT Capital Fund. In episode 111 'Ugly Cow,' Joseph Jackson discusses the importance of understanding all aspects of a property's value before flipping it.
Press Release
-
updated: Aug 21, 2018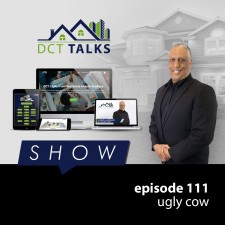 HOUSTON, August 21, 2018 (Newswire.com) - Real estate investment company DCT Capital Fund, based in Houston, Texas, focuses on providing investment opportunities that maximize the returns and value to their partners. DCT Talks (Dreams Come True), a new podcast channel, highlights success, business and wealth strategies that can be applied to all aspects of life.
On this episode of DCT Talks, Hugo D. Aviles is with the founder of DCT Capital Fund Joseph Jackson, a serial entrepreneur with over 30 years of experience in the real estate market. This is one of the initial episodes recorded for his book that is coming soon.
The podcast begins with Mr. Jackson sharing his "ugly cow" philosophy and how it applies to real estate, specifically in his process of evaluating a property before flipping or investing in it. There is an importance in understanding all aspects of a property's value and Mr. Jackson reveals all.
Want to know more about the Ugly Cow philosophy? Listen to the full podcast to hear what Joseph has to say, only on DCT Talks, episode 111 "Ugly Cow."
To listen to the full DCT Talks podcast, please visit the official DCT Capital Fund YouTube Channel.
For more information on DCT Capital Fund or to tune into the next podcast of DCT Talks, please visit https://dctcapitalfund.com.
*Now Available for download on iTunes: https://itunes.apple.com/us/podcast/dct-talks-show/id1372251704?mt=2
**Now Available on SoundCloud: https://soundcloud.com/user-835217044/dct-talks-show-episode-111-ugly-cow
For media or press inquiries, please contact media relations liaison Dana Blickensderfer at info@iBossAdv.com.
About DCT Capital Fund
DCT Capital Fund LLC is a Houston, Texas-based investment company established in 2007 to provide a vehicle that allows smaller investors to become equity holders in income-producing and/or capital-appreciation projects that have historically been inaccessible to them. Their vision is to create exceptional wealth and extraordinary freedom for those who choose to have it.
DCT Capital Fund's mission is to identify financial opportunities where they can put capital to work, utilizing their combined 70-plus years of development, brokerage, investing, banking, restaurant and retail experience to maximize financial returns for its partners.
For information on how to create one's own freedom plan and wealth through DCT Capital Fund's opportunities, contact a DCT Capital Fund advisor by visiting https://dctcapitalfund.com/ or by calling 713-999-6646 today.
Source: DCT Capital Fund
Share:
---
Categories: Real Estate Investments
Tags: DCT-CAPITAL-FUND, DCT-TALKS, DREAMS-COME-TRUE, FINANCIAL-LITERACY, INVESTMENT-COMPANIES, INVESTMENT-REALESTATE, REAL-ESTATE-CROWDFUNDING, REAL-ESTATE-EDUCATION, REAL-ESTATE-INVESTING, REAL-ESTATE-INVESTMENT, REAL-ESTATE-INVESTMENT-FUNDS
---