DCT Capital Fund Launches Houston Real Estate Educational Podcast Channel: DCT Talks
DCT Capital Fund launches new podcast channel starring Joseph Jackson, founder of DCT Capital Fund. In his latest real estate podcast, Mr. Jackson goes into detail on how to use debt sparingly and takes a closer look at America's banking system.
Press Release
-
updated: Apr 12, 2018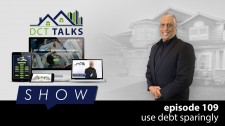 HOUSTON, April 12, 2018 (Newswire.com) - Real estate investment company, DCT Capital Fund, based in Houston, Texas focuses on providing investment opportunities that maximize the returns and value to their partners. With the release of their new podcast channel, DCT Talks educates listeners and makes it easier to invest and benefit from the growing Houston real estate market.
DCT Capital Fund releases DCT Talks, a podcast highlighting essential real estate investment strategies and opportunities investors should be looking at in the Houston real estate market. In this latest episode, Use Debt Sparingly, Mr. Jackson goes into detail on how to use debt sparingly and comments on the banking system in America.
According to episode 109, Jackson discusses the possibility that America is one big marketing venture, and those that control the money and banks use their access to the public to educate us on being "good clients" or "good users" of their product.
In this reality, Jackson explains people have become so comfortable with what they have been taught about money, that it keeps them addicted to following the same process and system banks want consumers to follow. The trick, he mentions, is to look at money like a banker, or someone with wealth, to use that money differently. The truth that some may fail to realize is that banks were not created to transfer wealth, but to perpetuate wealth.
This riveting podcast episode, Use Debt Sparingly, evokes listeners to open their minds up to new ways of thinking about our current systems in place. DCT Talks' mission is to continue conversations of financial literacy and real estate in the United States.
To conclude the podcast, Mr. Jackson states the lesson to understand: the bank isn't your business partner.
To listen to the full DCT Talks podcast, please visit the official DCT Capital Fund YouTube Channel
For more information on DCT Capital Fund or to tune into the next podcast of DCT Talks, please visit https://dctcapitalfund.com
For media or press inquiries, please contact media relations liaison Dana Blickensderfer at info@iBossAdv.com.
About DCT Capital Fund
DCT Capital Fund, LLC is a Houston, Texas-based investment company established in 2007, to provide a vehicle that allows smaller investors to become equity holders in income producing and/or capital appreciation projects that have historically been inaccessible to them. Their vision is to create exceptional wealth and extraordinary freedom for those who choose to have it.
DCT Capital Fund's mission is to identify financial opportunities where they can put capital to work, utilizing their combined 70+ years of development, brokerage, investing, banking, restaurant and retail experience to maximize financial returns for its partners.
For information on how to create your own freedom plan and wealth through DCT Capital Fund's opportunities, contact a DCT Capital Fund advisor by visiting https://dctcapitalfund.com or by calling 713-999-6646 today.
Source: DCT Capital Fund
---
Categories: Real Estate Investments
Tags: DCT-CAPITAL-FUND, FINANCIAL-LITERACY, INVESTMENT-COMPANIES, INVESTMENT-REALESTATE, REAL-ESTATE-CROWDFUNDING, REAL-ESTATE-EDUCATION, REAL-ESTATE-INVESTING, REAL-ESTATE-INVESTMENT, REAL-ESTATE-INVESTMENT-FUNDS
---