DCI Health Technology and Landmark Hospital System Announce the First US Go Live for the Integrated Hospital Smart Room
Press Release
-
updated: Nov 7, 2019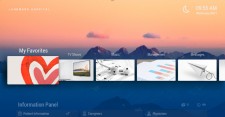 MILWAUKEE, November 7, 2019 (Newswire.com) - DCI Health Technology, Inc., a leading provider of smart, connected, digital health technologies for the hospital, today announced a go-live at Landmark Hospital, located in Naples, FL. Landmark Hospital chose to implement DCI's room and patient information displays that provide real-time patient information from the Electronic Health Record (EHR), saving clinicians time and reducing the chances of communication errors. The patient display can also help remove the need for the in-room whiteboard when the right requirements are put into place. DCI's OneTVTM Smart TV healthcare solution provides patient infotainment by displaying both TV and personalized clinical information.
"We are excited to begin our journey improving day-to-day patient management for our nurses and care teams through the implementation of DCI's smart care digital solutions," said Michael McKenzie, Chief Information Officer for Landmark Hospitals. "We determined DCI as the best vendor to suit us on this patient management and patient experience improvement journey based on the product's cost-effectiveness and integration with our voice-controlled Electronic Health Record, ChartPad."
DCI's implementation at Landmark is its first product suite integration in the United States. The intuitive OneRoomTM product design and seamless EHR integration allow clinicians to expedite care and efficiently maintain careful patient oversight. Patients are quick to adopt the OneTV solution which turns a familiar fixture in the patient room into an interactive tool on which they can order food from the cafeteria, experience Artcast's premium therapeutic and sleep content, and view information about the care they are receiving while in the facility.
Charlie Alvarez, CEO of DCI, was instrumental in securing this partnership. "We are excited as Landmark Hospital is a premier Long-term Acute Care provider in the Naples, FL, area, as well as a specialized surgical hospital. Landmark provides expert care for patients requiring comprehensive rehabilitation services for post-surgical conditions or post-medical conditions. We plan to help them improve the clinician experience providing care, as well as provide them with specific tools that surprise and delight their patients," he said.
About Landmark Hospitals: 
Located in Naples Florida, Landmark Hospital is an unaffiliated, Long-term Acute Care Hospital Corporation. Their newly expanded facility with state-of-the-art operating rooms allows its surgeons to perform surgical procedures in an efficient, cost-effective manner with patient safety being their top priority. For more information regarding Landmark Hospital, visit www.landmarkhospitals.com. 
About DCI: 
DCI Health Technology, (DCI), headquartered in Wisconsin's thriving healthcare IT and medical device sector, is dedicated to the development of a new generation of smart hospital products. DCI is a Foxconn Health Technology Business Group company. Foxconn, the largest electronics manufacturer in the world, ranked #24 in Fortune's Global Top 500 Corporations in 2018, and #143 on Forbes' World's Best Employers in 2019. For more information regarding DCI, visit www.dcihealthtech.com.
Contact: Kristie Pulvermacher
Kristie.pulvermacher@dcihealthtech.com
Source: DCI Health Technology, Inc.
Share:
---
Categories: Healthcare
Tags: EMR Integration, Health IT, Smart Hospital
---