Day Translations President Inspires Entrepreneurs
Featured in the Tampa Bay Times, Sean Hopwood inspires Tampa Bay & aspiring entrepreneurs worldwide.
Press Release
-
updated: Jan 18, 2019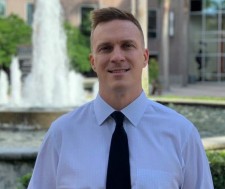 NEW YORK, January 18, 2019 (Newswire.com) - Described as having machine-gun intensity, Sean Hopwood, president of Day Translations, was recognized by the Tampa Bay Times as an entrepreneur to model. Humbly, Hopwood shares credit with his Day Translations' team, but even his employees admit that Hopwood's charismatic passion is what drives their company to great heights.
Hopwood founded Day Translations in 2007, and the company has skyrocketed since. He began by going door-to-door asking businesses if they needed translations, until he landed his first customer: a church who needed a pamphlet translated into Spanish for $50.
"Get the door closed in your face enough times and you learn a lot about rejection and salesmanship." —Sean Hopwood, Day Translations CEO
Then, a month later, Hopwood landed his first big deal. It was with a crepe maker manufacturer who requested a manual translated into Spanish for $6000. And just like that, Hopwood was in business.
Day Translations has grown from Hopwood doing the translations himself, to having a network of over 10,000 translators. He has helped some of the world's largest companies with everything from legal document translation, to website localization, video game translation, and court interpreting. Yet Hopwood still takes on small jobs, like a simple tattoo or love letter translation. His small business adviser from the start, Daniel James Scott, says, "He's always had a massive heart."
And it is that heart that inspires his 64 corporate employees daily, has gotten him through Google's algorithm changes, and has grown his start-up into a multi-million dollar, international business.
The Tampa Bay Times identified it perfectly: "Passion, vision, guts – he's got the entrepreneur's trifecta." —Graham Brink, Tampa Bay Times. Hopwood's passion for the language industry didn't stem from his entrepreneurial courses. Hopwood has had an innate love of languages his whole life. Acknowledging his passion and creating a company around it was the first step to his company's success. Coupling that passion with a strong vision, and the guts to go for it, is what has turned Day Translations into the powerhouse that it is today.
Day Translations, Inc. is a global professional translation company, honored in the 2018 Inc. 5000 as one of the fastest growing private companies in the United States. They help individuals, small businesses, and multinational corporations expand their global impact by bridging the language gap, and optimizing marketing strategies. Day Translations is passionate about language, and grateful for the opportunities they've had to support humanitarian services, including providing interpreters during the Egyptian crisis of the Arab Spring and supporting Translators Without Borders.
Source: Day Translations, Inc.
Share:
---
Categories: Entrepreneurship
Tags: Business, Business Development, Day Translations, Entrepreneurship, Interpreting, Legal, Localization, Medical, Small Business, Tampa, Tampa Bay Times, Translations
---