Day Translations Offers Free Resources for Game Developers Planning on Going Global
Press Release
•
updated: May 8, 2019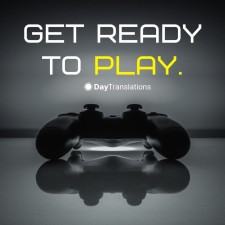 NEW YORK, May 8, 2019 (Newswire.com) - In their continuous efforts to provide intelligent, valuable resources and advice to its diverse clientèle, Day Translations Inc. has assigned May as its "Gaming Month."
"It's not easy to translate a video game, nor is it enough. We want to offer businesses and entrepreneurs in the gaming industry the information they need to welcome the chance of expanding abroad, as well as data-fueled advice on how to localize their products, stories and brand successfully," said Sean Patrick Hopwood, CEO of the global language services provider.
According to research conducted last year by Statista, the gaming industry is currently grossing more than the film industry, with the most successful games of the last decade earning almost twice as much during the first three days after their launch than the most successful movies through their first Sunday after launch.
Day Translations Inc. has already started its campaign to help businesses in this growing industry seize their chance to go global, publishing a first general guide on video game localization practices and business expansion on their company blog.
The guide in question covers the importance of expanding as a gaming company and then goes on to explain product development best practices, which components of a game and its related material require special attention and the goals and importance of localizing.
During May, the company will target gaming-related businesses looking to expand overseas, offering them free e-books, white papers and exclusive content distributed through the company's newsletter.
Day Translations Inc. is a global, professional translation company, honored in the 2018 Inc. 5000 as one of the fastest-growing private companies in the United States. It helps individuals, small businesses and multinational corporations expand their global impact by bridging the language gap and optimizing marketing strategies. Day Translations is passionate about language and grateful for the opportunities it has had to support humanitarian services, including providing interpreters during the Egyptian crisis of the Arab Spring and supporting Translators Without Borders.
Source: Day Translations Inc.
Related Media
Additional Links