Day Translations Makes Entrepreneur Magazine's List for Best Entrepreneurial Companies
Press Release
•
updated: Dec 20, 2018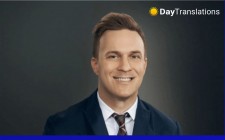 Tampa Bay, FL, December 20, 2018 (Newswire.com) - ​​​​​​Day Translations, a translation service company out of Tampa, Fl., was added to Entrepreneur Magazine's Entrepreneur360 List for Best Entrepreneurial Companies in 2018. Entrepreneur Magazine studied private companies, looking for innovative ideas, strong company cultures, increased brand awareness, and impacts that overflow into their communities.
Day Translations started as a goal for the greater good. Sean Hopwood, the company President, wanted to create a business that promotes world peace through education, tolerance, and cultural awareness. In 2007, Hopwood used his education and personal experiences to create Day Translations, a now international company that offers professional translation services.
"I take great pride in winning an award like this, because starting a business is not just about creating a company. It's about creating something beautiful. My goal is not just to make money, but to make the world a better place." –Sean Hopwood, President of Day Translations, Inc.
A polyglot, Hopwood started the company on his own, finding translation requests on Craigslist to supplement his income. The more he dove into the business, the more he realized the need for translation services. The demand was so great, Hopwood soon gained enough clients that he had to hire a project manager and an additional translator. "Every time we added more employees, our business grew," said Hopwood.
And grow it did! Heading into its twelfth year, Day Translations now has 58 corporate employees and a network of over 10,000 translators and interpreters. Day Translations spans the globe, with 13 offices across the U.S. and six international offices including London, Paris, and Dubai. They offer a variety of services, including certified translations, medical interpreting, banking translations, USCIS translations, movie subtitling and more. Not only that, but the world's leading companies turn to Day Translations for their translation needs.
Hopwood radiates a love for his company and a passion for cultures worldwide. He uses his business as an opportunity to provide jobs, bridge language gaps, and celebrate diversity. His employees and clients appreciate his warm approach to big business. And as a result, Day Translations' growth continues to soar.
Day Translations, Inc. is a global human translation company, honored in the 2018 Inc. 5000 as one of the fastest growing private companies in the United States. They help individuals, small businesses, and multinational corporations expand their global impact by bridging the language gap. Day Translations is passionate about language, and grateful for the opportunities they've had to support humanitarian services, including providing interpreters during the Egyptian crisis of the Arab Spring and supporting Translators Without Borders.
Source: Day Translations Inc
Related Media
Tags
Additional Links