Day Translations Launches Revolutionary Interpreting App, DayInterpreting
A new app that allows users to connect with interpreters in real-time.
Press Release
-
updated: Mar 7, 2019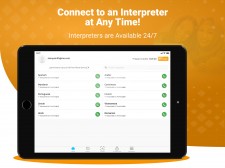 NEW YORK, March 7, 2019 (Newswire.com) - Day Translations launched their new DayInterpreting app today for iOS and Android, which provides users with a professional over the phone interpreter in real-time. With simply a data or internet connection, users can connect to a professional interpreter through the app and receive instant interpreting services.
Day Translations has offered professional translation services since 2007. Their ever-growing suite of services includes certified translations, customized localization, web solutions, and of course, interpreting. From this experience, the company discovered many situations where an instant interpreter could have prevented mishaps and eased the crisis.
"We've had the privilege of providing interpreters not only to big businesses but also to individuals in crisis situations. The impact that a professional interpreter has on enhancing communication for any multilingual situation is unparalleled," says Sean Hopwood, Day Translations CEO.
Seeing this monumental impact spawned the idea of providing customers a faster connection to a professional interpreter, and thus DayInterpreting was born.
DayInterpreting started out as a web-based platform, where users could create an account and purchase credits to connect with an interpreter via a web dashboard or a special toll-free number. From there, Day Translations created the DayInterpreting app, giving users easier accessibility and more mobility to use DayInterpreting's services.
Via the app, users can set up an account, purchase call credits, and manage call history. Most importantly, users can select a language pair on the home screen, and dial in to instantly connect with an interpreter fluent in both selected languages. Once on the call, users are able to add multiple third-party callers to the line.
Day Translations' goal for this app is multifaceted. In one regard, the company hopes that DayInterpreting will prevent the improper relaying of messages across multilingual corporations. On a grander scale, the Day Translations team believes that this app can provide aid in disaster and crisis situations, and potentially even save lives.
Day Translations, Inc. is a global professional translation company, honored in the 2018 Inc. 5000 as one of the fastest growing private companies in the United States. They help individuals, small businesses, and multinational corporations expand their global impact by bridging the language gap and optimizing marketing strategies. Day Translations is passionate about language and grateful for the opportunities they've had to support humanitarian services, including providing interpreters during the Egyptian crisis of the Arab Spring and supporting Translators Without Borders.
Source: Day Translations, Inc.
---
Categories: Business Technology
Tags: business to business, court interpreting, interpreting app, legal interpreting, over the phone interpreting, professional interpreting services, translation services, video interpreting services
---