Day Translations, Inc. Offers Their High-Quality DayInterpreting Service for the Corporate, Legal, and Medical Fields
Press Release
•
updated: Feb 19, 2018
Clients are able to connect to real, human interpreters quickly via the web or phone.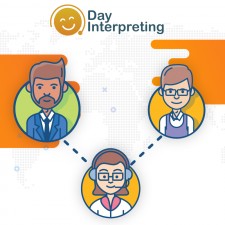 New York, February 19, 2018 (Newswire.com) - Day Translations, Inc., a professional translation company with 11 years of experience in the language industry, gives clients such as hospitals, law firms, law enforcement, call centers, and more, fast and easy access to professional interpreting services in a multitude of languages. The company recently released their new DayInterpreting technology. This new multi-lingual telephone interpreting platform connects clients with a real, human interpreter within 15 seconds.
DayInterpreting's on-demand multilingual phone interpreting solution allows clients to connect with foreign language speakers in real-time, cutting out the middle man. The platform is built using the latest advancements in internet and telecommunication services, using an over-the-phone (OIP) system.
Using the system is easy, affordable and effective. Simply sign up for a free DayInterpreting account and have instant self-service access. After receiving a unique client ID, a passcode can be set up and prepaid credits bought. The system is secure and accessible from anywhere in the world, allowing clients to add credits at their base of operation or on the go. Then all a client needs to do is connect to a professional interpreter from the web-based dashboard via computer or mobile device or call a special toll-free number. Clients are then connected to a professional interpreter.
"Through DayInterpreting, we aim to eliminate language barriers, improve your customer's experiences and grow your business," says Sean Hopwood, President and CEO of Day Translations, Inc. "Our team of interpreters are of the highest-industry standard. They are thoroughly vetted to ensure phone interpretations are professional and accurate. The company offers 24/7 translations in more than 100 languages to meet any business, government, legal or medical need."
The company adheres to strict standards of quality and privacy, ensuring accurate translations with rapid delivery and a lifetime guarantee. They are members of the American Translators Association and provide medical and legal translations that are FDA compliant and USCIS approved.
Clients that are interested in trying out the service, the company offers a free account sign-up and demo. DayInterpreting offers an easy setup with no contracts, setup fees or minimums. To learn more and request a demo, visit DayTranslations.com.
About Day Translations, Inc.
Founded in 2007, by President and CEO Sean Hopwood, Day Translations, Inc. improves worldwide communication through accurate, localized translations. The company's DayInterpreting service connects clients to interpreting quickly and effectively via the web or phone. To learn more, visit DayTranslations.com.
Media Contact:
Candice Anklin
Phone: 800-969-6853
Email: canklin@daytranslations.com
Source: Day Translations, Inc.
Related Media