David Weeks NYC Debuts 10 Foot, 750 Pound 'The Plastic Wave' Sculpture at Art Basel Miami to Bring Awareness to Plastic Is Wack and Ocean Conservation
Press Release
•
Dec 2, 2021
Charity Art Auction to Raise Funds for 4ocean and The Ocean Cleanup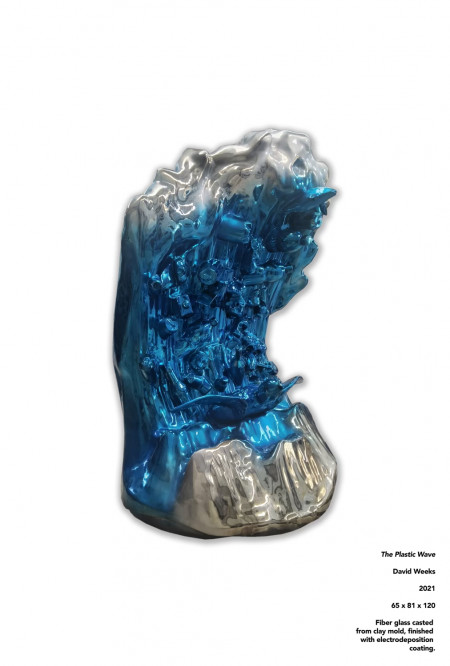 MIAMI, December 2, 2021 (Newswire.com) - David Weeks NYC, contemporary artist known for his unique broken skateboards, viral mobile installations, Kanye West sculpture, Megan Thee Stallion custom commission, and his HK Art Basel exhibit, is pleased to announce his largest sculpture, a 10-foot, 750-pound piece entitled "The Plastic Wave." The sculpture will be unveiled formally during Art Basel Miami to bring awareness to Ocean Conservation and his Plasticiswack.com campaign. "The Plastic Wave" was created to bring awareness and dialogue based around the impact of single-use plastic waste and the effects it has on the world, especially marine life. The statistics are staggering, and Weeks is passionate about educating the community.
Did you know?
An estimated 8 Million tons of plastic enters our oceans every year.
There are 5.25 trillion pieces of plastic waste estimated to be in our oceans. 269,000 tons float, 4 billion microfibers per km² dwell below the surface.
70% of our debris sinks into the ocean's ecosystem, 15% floats, and 15% lands on our beaches.
In the past 10 years, we've made more plastic than in the last century. By 2050, the population of fish will be outnumbered by our dumped plastics.
In various studies, plastics made up 60-90% of the marine pollution found.
Ocean crusaders estimate there to be 46,000 plastic pieces in our waters per mile (squared).
Other than incinerated plastics, the entire volume we ever created is still on our planet in some form.
"I chose Art Basel to exhibit my sculpture 'The Plastic Wave' because it's a time of year when people from all over the world come to Miami to view art. I'm proud to have a stage to show my work, I really wanted to hit them with something I actually care about, not just another fluff piece that's only optically pleasing. 'The Plastic Wave' is not only optically pleasing but there's a deep message within it, and unfortunately a lot of people are not aware of what's happening in the ocean, so I made it my duty to educate them. My inspiration behind 'The Plastic Wave' was the Great Wave Off Kanagawa, which is one the most iconic pieces of art ever created. I took it upon myself to show my interpretation of the wave being shown now in modern times and it would be filled with plastic waste," said Weeks.
The Plastic Wave charity auction and VIP event will take place Dec. 2, 2021, in Miami, FL. Auction proceeds will benefit 4ocean and The Ocean Cleanup.
Media interested in attending should send credentials to: melissa@seachangehwc.com
Source: David Weeks NYC
Related Media
Related Files