David Chasse of North Liberty Offers Effective Online Services for Major Corporations
Press Release
-
updated: Nov 30, 2017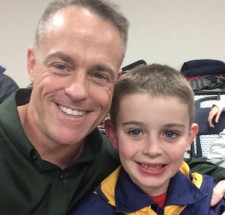 NORTH LIBERTY, Iowa, November 30, 2017 (Newswire.com) - Businesses small and large are always scanning for ways they can maintain their customers and show gratitude for their business. David Chasse started The Birthday Company with this piece of information in mind.
The more significant corporations seem to have a challenging time keeping a record of essential dates linked to their clients.
Without customers, any corporation is stagnant. Chasse, from North Liberty, Iowa, saw a moment in assisting businesses to build solid connections with their patrons.
When Chasse created The Birthday Company, the plan was to give big corporations an outlet to provide cards and gifts to prestigious clients. The company gained clients almost at once, and the services expanded to more items over the years.
After starting his company, Chasse learned that obtaining new clients takes more money than keeping current clients. It's necessary to keep existing clients satisfied and to come back for more business. Being equipped to add a special touch to the relationship will make sure to keep clients loyal.
Providing Simple Solution to Difficult Tasks
While it might appear keeping track of birthdays and special anniversaries is simple, it can be a hassle for entrepreneurs and corporations.
Company personnel spends hours buying gifts for clients, either standing in line or browsing online. Also, you can't forget purchasing personalized cards. Another task is taking up company time.
Chasse has been helping companies stop spending countless hours on these tasks. Instead, his firm offers multiple services with a click of a button.
The Birthday Company has online services based where corporations can make a free client account. The company then adds a list of names, addresses, and significant anniversaries to the database.
Services All on One Website
On Chasse's company website, a corporation will find a large selection of gifts for all budgets. From greeting cards to lovely chocolates, and even CDs of music, Chasse offers it all. The Birthday Company is growing each year, adding new selections and more gifts.
Chasse is conscious of the elements that make a gift heartfelt. This is why he makes sure he never deliver the same gift or card twice. This fact also goes with not sending the same card from the address of his company twice. He always uses the location of his clients to make it seem like the present was packaged manually.
To add more personality to the cards and gifts, The Birthday Company proposes the option of putting a high-resolution icon that matches the signature of the company. Companies will look as if they sent the gift from their location, instead of Chasse delivering.
The company sends all products seven days prior the significant date. The company can also choose the option of being informed by email when the receiver of the gift has an important day.
Corporations who wish to operate with The Birthday Company should know that they have a large assortment of gifts to choose from, and prices range $2.95 up to $56.95.
Signing Up for The Birthday Company
Getting all the information about The Birthday Company is easy since a company can just make a free account on the website. The services include free data entry assistance, list uploads, and a high-resolution signature. These services are immediately available once signed up.
If someone is interested in knowing how the Birthday Company works and how they can start operating with Chasse as well, just go over to the www.birthdayco.com and watch the essential video tutorial.
Chasse is pleased to serve and provide excellent service to many big corporations over the years. Customer satisfaction is just one reason why The Birthday Company continues to thrive.
To visit the Birthday Companies, please follow the link here.
Media Contact:
​Eric Blankenship
​Eric@netreputation.com
786-332-6554
Source: Web Presence, LLC
Share:
---
Categories: Business to Business, Business to Consumer, Business Ethics
Tags: David Chasse, David Chasse Iowa, David Chasse North Liberty
---