David Chasse of North Liberty, Iowa Saving Businesses Time and Money With the Birthday Company
Press Release
-
updated: Dec 22, 2017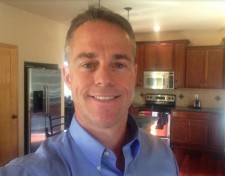 North Liberty, Iowa, December 22, 2017 (Newswire.com) - Companies today face a significant challenge of retaining their regular business. Customers are always looking for the best deal for their dollar. Sometimes, it's the personal touch from a large company that can help keep customers around, no matter the price. David Chasse of North Liberty, Iowa has the right company for this job.
Chasse founded The Birthday Company twenty years ago on the premise of bridging the gap between customers and large businesses. Offering different gifts and services, Chasse has found the perfect niche in the current economy.
Keeping Track Of Thousands Of Important Dates With One Click
While The Birthday Company lets a company show appreciation on a birthday or anniversary to a client, it's the timesaving aspect that is popular.
"A company may have thousands of clients," states Chasse. "It would take multiple people within the company just to keep track of important dates. Resources dedicated to these tasks are just not viable in this economy."
Not only would a company have to hire a team to track these dates, but they would also have to buy gifts and cards. Plus, they would have to make sure the customer does not receive the same present twice.
Chasse's company saves time and money for large businesses. The Birthday Company handles the tracking of essential dates and which gifts go to who.
"Our process is simple, and signup is easy," explains Chasse. "A company can input a large spreadsheet filled with names, addresses, and set a budget for each person. Once inputted into the system, the reminders will start."
The notification system has become one of the glowing aspects of Chasse's company. Clients of The Birthday Company recognize how easy and efficient it is to set gift reminders and the budget with each respective customer.
"Because these dates are automatically in the system, the person responsible for handling the inputting receives a notification of a date coming up," says Chasse. "Preferences can be set up to one week in advance."
Notification System Saves Time And Money For Companies
The timesaving manner of this notification system has saved companies money as well as company time. Once a company receives the notification, the person can confirm the gift and address in just a few clicks of the mouse.
Chasse also promises that a customer will never receive the same gift or card twice. This automatic tracking saves a client time and money.
"There are so many selections when it comes to gifts and cards in our inventory," says Chasse. "If a company wants to send a gift card every time, they can. But if they do have it set to automatic selection, a gift will never be sent twice."
The choices Chasse offers can be delicious chocolates or physical gift cards included in a package.
Another sought-after aspect of Chasse's services is letting companies have a high-resolution signature on file. Rather than send a gift to an organization first for custom signings, the used image is on all forms and messages.
"The aspect of the signature eliminates the need to send our gift to the company first," explains Chasse. "This saves one or two weeks of time waiting for the gift to return so we can send it. The present could become lost or forgotten in the mail.
In today's economy, time is money and money is time. Eliminating the unnecessary delivery and relying on busy employees can get in the way of expressing gratitude.
"The bottom line is to express gratitude to important clients," concludes Chasse. "It takes more money to gain new clients than it is to keep current ones."
To learn more about David Chasse and The Birthday Company, you can visit the company's website here.
Media Contact:
​Eric Blankenship
​Eric@Netreputation.com
786-332-6554
Source: Web Presence, LLC
Share:
---
Categories: Business to Business, Business to Consumer, Business Ethics
Tags: David Chasse, David Chasse Iowa, David Chasse North Liberty
---