David Chasse of Coralville, Iowa Speaks at Conference About Effects of the Birthday Company
Press Release
-
updated: Jan 12, 2018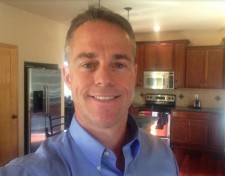 CORALVILLE, Iowa, January 12, 2018 (Newswire.com) - Founder and CEO of The Birthday Company, David Chasse of Coralville, Iowa, was in Orlando, Florida last year to speak at the 401(k) Rekon Advisor Symposium. These discussions are free, one-day events in major cities around the country. Also, these crucial meetings are intended to aid advisers in maintaining and advancing their retirement plan applications by utilizing the support of speakers, like Chasse.
Each symposium consists of several informative sessions. Each session includes helpful tips and promotional ideas, along with other areas of focus. Also, plans are passed around and brainstorming discussions take place during these conferences.
David Chasse was on hand to speak about The Birthday Company's services and the importance of client retention through his electronic birthday cards and gifts services. According to recent studies, it costs almost ten times as much to obtain new clients than to keep old clients. But managing those connections is the key to building a chain of positive referrals.
It was great to share the knowledge I've gained over the past several years in this business.
"I was fortunate to speak about the services of The Birthday Company to the large conference," says Chasse. "It was an honor to be able to boast about our services, but also bring awareness to the number of clients that appreciate the little things from the people they do business with."
Featured In Newsletter And Received Attention On National Level
In the 401(k) Rekon March newsletter in 2011, The Birthday Company became featured as one such business that values client relationships. They called The Birthday Company a "Truly Personalized Special Event Card Service."
This passage is what they said in the newsletter:
"Successful advisers everywhere know how critical it is to keep a personal touch with customers and prospects. But it's not simple to keep a record of it all. One of our favorite personalized card services stands out as a cost-effective and simple-to-use answer: The Birthday Company. Starting at $2.95 per card, the service includes gift opportunities at different price levels."
The following features make it an excellent means for maintaining that personal touch with everyone on your list:
No contracts, setup or service fees, or a minimum number of client demands.
The signature of the business becomes printed in high resolution, so they appear you signed the cards yourself. Your return address appears on the cover, and the logo printed on the package.
All birthday card designs are rotated daily. This means customers never receive the same card or gift twice. Client birthday and special dates become automatically rescheduled, so you'll never miss another important day.
Online secure access to the account to view, edit and manage all client mailings.​
Free birthday notice emails included with the service.
David Chasse Stresses Establishing Relationships With Clients
The Birthday Company's corporate birthday card service is user-friendly, and it takes minutes to set up an account. In addition to birthdays, clients can choose from a wide assortment of holiday and individual occasion cards mailed to their customers.
Also, customers of The Birthday Company only pay for what becomes sent on their behalf. Customers can get signed up risk-free because there are no setup fees, no contracts, and no minimum number of client requirements. The budget can become set with each particular client, which can be customized days before the gift becomes shipped by The Birthday Company.
Establishing relationships with clients is vital to building future business, which is why The Birthday Company's corporate birthday card services are a great addition to any company. Large or small, maintaining client relationships is The Birthday Company's specialty. And that best part is that the secure automated system ensures that you will never miss another birthday or special occasion.
"It was great to share the knowledge I've gained over the past several years in this business," says Chasse. "I hope to attend more of these conferences in the future."
To visit The Birthday Company's website, please click here.
Source: Web Presence, LLC
---
Categories: Business to Business, Business Ethics, Business
Tags: David Chasse, David Chasse Coralville, David Chasse Iowa
---