Dating and Coronavirus: Study Reveals Video 'Pre-Dates' Now Preferred Over Meeting in Person, Experts Predict Online Dating Surge
Press Release
•
updated: Mar 24, 2020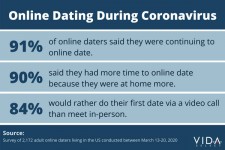 ATLANTA, March 24, 2020 (Newswire.com) - ​​​​In a time of global uncertainty and health concerns, modern matchmaking company VIDA Select (www.VIDAselect.com) finds most dating app users intend to keep online dating - but largely prefer meeting a match for the first time via video chat, rather than in person.
"Social distancing is vital, but it doesn't have to mean social isolation," said VIDA Select Founder Scott Valdez. "Forming meaningful relationships is more important than ever, and we'll continue to help our clients find love as the landscape of dating evolves."
In a survey of 2,172 online daters across the U.S., 91% of respondents told VIDA they were still online dating. Eighty-four percent said they'd do their first date via video call rather than meet in person, and 90% reported having more time for online dating, now that they were staying home more.
Valdez predicts a surge in the popularity of online dating, something other industry experts agree is likely. Match's chief dating expert Rachel DeAlto recently said, "In times where people are hunkered down — such as snowstorms — Match and other dating sites have reported surges in traffic. Coronavirus self-quarantines could have a similar effect."
As one client in Michigan told his matchmaker, "We are probably going on lockdown this weekend. So having some company, even virtual, would be terrific."
Not only is VIDA facilitating what they call video "pre-dates" for their clients across the globe, as social distancing becomes the new norm, it also provides resources like video chatting tips.
"With more people working from home and avoiding crowded places, being single can feel more lonely than ever," said Valdez. "Finding socially responsible ways to meet new people is important because we still crave meaningful connections. VIDA is helping clients adapt to this new approach, and 'pre-dates' will likely continue even post coronavirus."
Eighty-nine percent of clients are moving to phone or video "pre-dates" instead of straight to an in-person date. As one client said, "A FaceTime date after a telephone call is a great idea, and helps establish if it's worth taking a walk together."
Video chatting often leads to a more relaxed experience once both people feel comfortable meeting in person. "Previously, many clients said they prefer pre-screening their matches, and when they do meet in person, the connection is even stronger," Valdez said. "We're confident this will be the case now more than ever, as people begin to prioritize finding a meaningful relationship."
About VIDA Select: Founded by Scott Valdez in 2009, VIDA (www.VIDAselect.com) has helped thousands of singles meet their ideal partner by handling every aspect of their online dating. Powered by 100+ professional matchmakers, dating specialists, stylists, photographers, and IT experts, VIDA taps into the world's largest database of eligible singles to find highly compatible local matches for clients.
Media Contact: Catherine Huchan, press@vidaselect.com, 404-954-0908.
Source: VIDA Select
Tags