Datatel's New IVR Payments Module Offers Multiple Merchant Accounts On A Single Payment Application
Press Release
•
updated: Mar 16, 2021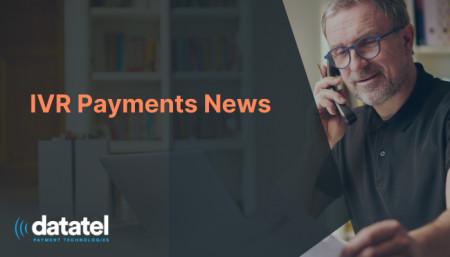 MIAMI and TORONTO, March 16, 2021 (Newswire.com) - Datatel Communications Inc. / Datatel Inc. in Canada, a leader in IVR Payments and Payment Technology for over 20 years announced the release of a new CryptoIVRTM module to support multiple merchant accounts from one single IVR Payment application. Business can route payments to multiple merchant accounts on demand based on each unique caller profile.
Datatel's modular IVR Payments as a Service enables businesses of all sizes to remove live agents and business systems from handling sensitive credit card information, critical to achieving PCI compliance as well as providing customers with an effortless and secure way to make a payment or register their credit card 24/7 by phone.
The Datatel's CryptoIVRTM Multi-Merchant Account module enables businesses who run multiple business units to consolidate all phone payment activity under one application while payments can be routed dynamically to different merchant accounts.
As a bring your own processor solution, CryptoIVRTM provides merchants the flexibility to deploy cutting-edge IVR Payments technology, while maintaining their existing payment processor and banking relationships.
Companies who run multiple lines of business can deploy one centralized Datatel IVR Payments as a Service application servicing all of these, each with its own merchant account and settling payments to its own bank accounts.
Insurance companies, healthcare providers - as well as many other types of businesses that have the unique requirement to manage separate banking relationships while providing customers a seamless payment experience - are able to leverage Datatel's CryptoIVRTM Multi-Merchant Account module without the need to invest in extensive customizations, deploying separate applications one for each business unit or implementing cumbersome banking reconciliation processes.
Datatel's modular IVR Payments approach provides businesses with the flexibility to choose and configure modules which meet their unique business and budget requirements.
The Multi-Merchant Account module is available in Datatel's CryptoIVRTM PRO edition and supports a wide range of leading payment gateways and payment processors.
About Datatel
Twenty-four years ago, we launched Datatel with the vision to deliver innovative payment software, and secure IVR communication solutions to help our clients become more agile, profitable, secure, and successful.
Datatel's IVR Payments, Payment Technology, and transaction automation solutions are employed globally by thousands of businesses, healthcare providers, academic institutions, government, software companies, and service providers.
Our success comes from investing in our people, our customers, our partners, and technology. With a focus on innovation, we have arrived at a service delivery model that guarantees our customers' satisfaction.
Source: Datatel Communications Inc. / Datatel Inc. in Canada
Tags