Datatel Wins the 2016 TMT News Technology Awards for Best IVR & Telephone Payment Solutions Provider - North America
Press Release
•
Sep 27, 2016
Datatel's CryptolVR Named Best IVR & Telephone Payment Solutions Provider - North America.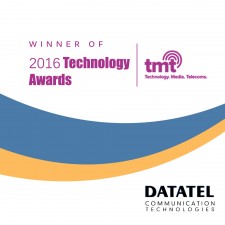 Miami, Florida, September 27, 2016 (Newswire.com) - Datatel Communications Inc. / Datatel Inc. in Canada, a leader in PCI Compliant IVR Payment solutions for the enterprise and SMB, is proud to announce, that they have won in the TMT 2016 Technology Awards and named Best IVR & Telephone Payment Solutions Provider - North America
​​​​Any business who accepts credit card payments over the Telephone must be Payment Card Industry (PCI-DSS) compliant. What used to be standard practices are being changed with much more restrictive measures to ensure that credit card holder information is protected. This industry transformation is impacting how businesses take and process payments over the telephone, and most importantly, how they run their businesses. Datatel helps solve this challenge.
We are thrilled to have been selected as the winner of the Best IVR & Telephone Payment Solutions Provider - North America category. This is additional confirmation that all our hard work to deliver great product and services are recognized by our clients and the industry. It's very much appreciated and we want to thank our clients, partners, vendors and express our gratitude to everyone who voted for us

Barnard Crespi, Datatel Co-CEO
Datatel's CryptolVR is the most robust, cost effective and easy to deploy IVR Payment platform on the Cloud to process Credit Card and eCheque payments 24/7, in a PCI compliant environment.
Datatel's IVR Payments can be easily configured for businesses across multiple industries. As a Cloud solution, implementation is quick and simple and there are no lengthy application processes. Businesses can keep their existing credit card merchant account.
IVR Payments is a key component to Datatel's suite of Voice and SMS enabled software. It is a service to help organizations improve accounts receivable communication, manage customer account queries, accelerate cash flow and lower account collection costs. ​
About Datatel
Twenty years ago we launched Datatel with the vision to deliver innovative software and voice communication solutions to help our clients become more agile, profitable and successful. Datatel's IVR Payment Platform on The Cloud provides businesses with the most Robust and Cost Effective way to securely and easily process Credit Card payments 24/7 over the Telephone, in a PCI Compliant environment.
Datatel has been providing IVR Payment Solutions on the Cloud to Hundreds of Businesses, Healthcare Providers, Governments, and Non-For-Profit Organizations for almost 10 years. Our success comes from investing in our people, our clients and technology. With a focus on innovation, we have arrived to a service delivery model that guarantees our customers satisfaction.
About TMT News
The 2016 Technology Awards are granted by TMT News. TMT News brings business professionals all the latest information from these the three most vital industries of the modern age: Technology, Media, and Telecoms. They explore all aspects: from legislation changes to the latest deals, new product launches to appointments and everything in between. They have created a range of awards programs to reward firms across those three key sectors, for the work they do, and the support they provide. Their prestigious awards are based solely on merit, and highlight key players, individuals and innovative firms of all sizes who have provided the world with new, cutting-edge techniques and cast a center-stage spotlight on those, who through determination, commitment and hard work, have developed and shared their ideas to fundamentally evolve the business world and the lives of consumers and customers for years to come. All winners are selected by a combination of votes gathered from their network of respected industry partners and their own rigorous in-house research. TMT News encourages their subscriber base of over 82,000, plus an additional base of industry specific individuals, to vote for an individual or company they would like to put forward for the program. TMT News leaves nothing to chance, carefully scrutinizing everything from a nominee's region to their performance over the past 12 months, their commitment to innovation, their methods, and even their competition to ensure that only the most deserving names walk away with one of their industry renowned awards.
Source: Datatel Communications & Datatel Inc.