Datatel Announces Payment Links for Accountants and Accounting Firms
Press Release
•
updated: Dec 15, 2020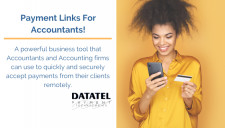 MIAMI and TORONTO, December 15, 2020 (Newswire.com) - Datatel Communications Inc. / Datatel Inc. in Canada, a leader in IVR Payments and Payment Technology for over 20 years, announces Power Payment Links for Accountants and Accounting firms. Power Payment Links are a simple, secure, PCI compliant method of sending payment requests via email and/or TXT messaging and receiving payment that helps merchants get paid for services while still adhering to the business restrictions and social distancing mandates that have come about as a result of the ongoing global pandemic.
Accountants and Accounting firms are among the types of businesses that stand to benefit from the advantages conferred by this payment methodology. Payment Links can be deployed quickly and securely to send their clients a request to pay for services and receive payment without ever touching their clients' credit card information. Each payment link is personalized, pre-coded with the account information and amount, so the client does not have to enter anything other than their credit card information.
Because Accounting firms also often provide services on demand that require a timely payment on short notice either before or after the work is done, Payment Links can be used to facilitate the receipt of fees for their services, many of which may not require any in-person meetings to conduct - an especially useful feature in a time of business lockdowns and social distancing.
Datatel Power Payment Links offer many benefits important to accountants and accounting firms, such as:
Retaining control over their current payment processor - with support for many payment gateways
Control over payment link messaging, which they can customize using an on-line editor
Payment Links are branded to the business
Get Started Quickly - No website, application or shopping Cart Integration Required
Learn more how Payment Links work for Accountants and Accounting firms https://www.datatel-systems.com/Articles/payment-links-for-accountants.aspx
About Datatel
Twenty-four years ago, we launched Datatel with the vision to deliver innovative payment software, and secure IVR communication solutions to help our clients become more agile, profitable, secure, and successful.
Datatel's IVR Payments, Payment Technology, and transaction automation solutions are employed globally by thousands of businesses, healthcare providers, academic institutions, government, software companies, and service providers.
Our success comes from investing in our people, our customers, our partners, and technology. With a focus on innovation, we have arrived at a service delivery model that guarantees our customers' satisfaction.
Source: Datatel Communications Inc. / Datatel Inc. in Canada
Tags
Additional Links