Datarius Cryptobank Participated in Decentralized 2017 in Cyprus
Press Release
-
updated: Nov 9, 2017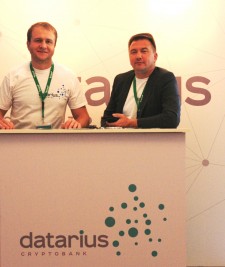 KIEV, Ukraine, November 8, 2017 (Newswire.com) - At Decentralized 2017 held in Limassol (Cyprus) on Nov. 2-3, 2017, organized by the University of Nicosia, iCrypto S.A. announced the launch of a fintech project for a completely new format – a social p2p blockchain cryptobank that Datarius has based on blockchain technology. As a p2p platform, the system enables the users to decide themselves whether to use any of its various services and applications. This feature, combined with extensive process automation, will almost completely eliminate transaction costs. Datarius will serve as a direct link between lenders and borrowers, as well as related services – managers, analysts, insurance companies, funds and trading terminals.
The planned integration of the systems of instant transfers and the duplication of virtual user accounts by their physical ones along with social functions such as trust limits, trust management, international ratings and social scoring are intended to meet the needs of even the most sophisticated clients.
Decentralized 2017 brought together 45 speakers and more than 600 participants from all over the world. Datarius Chief Marketing Officer Ruslan Vasyutin, who had been invited as a speaker, delivered a presentation on The Psychological Aspects of Crowdfunding in FinTech Projects. The topic received considerable audience attention. Participants and guests of the conference, most of whom used to enjoy the standard topics of reports with a focus on projects' capabilities, were easily engaged in a discussion. They actively shared their own experience and opinions.
The Datarius team has scheduled the participation and presentation at major events on decentralization and blockchain technologies, including FintechSummit (Bratislava) and BlockShow Asia 2017 (Singapore), as well as holding many interesting meetings by the end of the year. The first funding round of the social cryptobank Datarius is expected by December 2017.
Follow Datarius, join our community, #Cryptorize! We have a lot more coming soon.
Source: datarius.io
---
Categories: Business News, Economy, Business Finance, Banking, Finance, Insurance
Tags: Bitcoin, blockchain, Consumer Protection, cryptocurrencies, cryptocurrency, datarius, datariuscryptobank, decentralized, PR, press release
---