DATAMARK Identifies Why Companies Switch to Call Center Outsourcing
Press Release
•
updated: Mar 9, 2020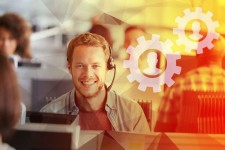 EL PASO, Texas, March 9, 2020 (Newswire.com) - DATAMARK, a leading business process outsourcing company, recently released "7 Reasons Companies Choose Call Center Outsourcing," a report that highlights the shifting mindsets around call center outsourcing, what prompts organizations to make the switch, and the expectations they have when working with call center companies. The full document is live on DATAMARK.net now.
This release is part of DATAMARK's ongoing Insights series, which features articles, how-to-guides, whitepapers, industry-specific data across a wide variety of sectors, and other materials designed to help business leaders enhance their strategies and make data-driven decisions that support company goals.
"7 Reasons Companies Choose Call Center Outsourcing," notes that, while companies once switched to outsourcing call center operations to cut costs, organizations in the modern era are more concerned with how their service represents their business and impacts the company as a whole. It's no longer being seen as something that needs to be addressed as an aside, but an opportunity to interact with customers on a different channel and cultivate life-long relationships.
"Cost is still a factor in the final decision for most companies, but what we're seeing now is greater focus on having the right systems and teams in place," says DATAMARK Vice President of Client Solutions Nina Brown. "Organizations want well-educated, highly trained representatives and scalable services. They're looking for ways to remove the cultural and language barriers to enhance experiences as well."
She notes that continuity planning is a large concern now too. Enterprise-level organizations can't afford to go offline when there's a pandemic, natural disaster, or other unexpected event. Experienced call center companies know what to look for in terms of shoring up services and building continuity into overall plans, so service is uninterrupted even when unforeseeable events occur.
"There's a lot more focus on what the individual organization needs," Brown adds. "When companies realize they can tailor the fit of their call center operations and easily address what matters most to them through outsourcing, whether that's something like continuity, providing better service, reducing costs, and that total transparency is possible, the decision is simple. It's just a matter of working with the right partner and refining the details."
She says DATAMARK has been developing top-performing outsourced call centers that manage customer care, loyalty programs, billing, help desk, warranty services, and more for decades. Those interested in exploring opportunities are encouraged to visit DATAMARK.net to learn more.
About the Company:
Founded in 1989, DATAMARK, Inc. is a leading Business Process Outsourcing (BPO) company headquartered in El Paso, Texas. DATAMARK serves Fortune 500 companies, government agencies, and other large enterprises at our delivery centers worldwide, including the U.S., Mexico, and India, offering a wide range of outsourced back-office services, including call center services; high-volume digital mailroom and mail center management; and data entry, document processing and document management, and business engineering services.
Press Contact:
Chelsea Hill
915-242-6117
chelsea.hill@datamark.net
Source: DATAMARK Inc.