Database Cyber Security Guard Prevents Hacker Theft of MySQL Database Data
​Sql Power Tools' product detects data breaches of confidential database data
Press Release
-
updated: Feb 21, 2019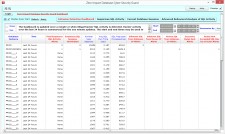 CHEYENNE, Wyo., February 21, 2019 (Newswire.com) - Sql Power Tools' Database Cyber Security Guard product detects MySQL database data theft by hackers or rogue insiders. It also protects the data of Informix, Oracle, SQL Server and Sybase databases. In 2018, CSO Online reported hackers were responsible for more than 4,500 data breaches.
The Database Cyber Security Guard product uses non-intrusive network sniffing technology to capture 100 percent of the database (SQL) queries issued to a database. It runs from a network TAP or proxy server and never connects to the protected databases.
Most databases have 2,000 to 20,000 unique queries that run millions of times a day. The product's Advanced SQL Behavioral Analysis of the captured queries learns what the normal query patterns and application behaviors are with the IP address every query was submitted from.
In real time, every database query is checked against the results of the learned query patterns plus the IP addresses they were sent from. Never-before-observed query patterns or queries sent from never-before-observed IP addresses are detected. Security professionals will be alerted to the database session being used, along with the database data being queried, text of the SQL query, login credentials and IP address for the suspicious database session.
Security professionals will know when hackers or rogue insiders have penetrated a network and are attempting to steal confidential database data. Database Cyber Security Guard protects credit card, tax ID, medical, social media, corporate, manufacturing, law enforcement, defense, homeland security and public utility database data.
Important database data security protection features include:
Notification when a database query sends more database data than the query has ever sent before.
Viewing of all suspicious database or SQL queries, login credentials used and the IP address the queries were submitted from.
Optionally terminating hacker sessions when never-before-observed database queries are querying data from a database.
Optionally terminating hacker sessions when database queries are issued from never-before-observed IP addresses for the query.
Email alerting for suspicious hacker or rogue insider database activity.
Visit www.sqlpower.com/home/cyber-attacks for:
Anatomy of Confidential Database Data Theft by Hackers
How the Database Data Theft is Prevented
About Sql Power Tools
Sql Power Tools is the industry leader in ZERO impact database monitoring using non-intrusive network sniffing.
Source: Sql Power Tools
Share:
---
Categories: IT Security, Business Security
Tags: Confidential Data, Cyber Security, Data Breach, Data Theft, Equifax, Hacker, Marriott
---