Data Centers of the Future Will Be Autonomous and With Energy Recovery. RoboNodes™ Is Taking the Lead
Energy required by data centers is on constant rise which represents a challenge for the climate change. RoboNodes™ is an innovative solution to reduce and reuse the energy, while eliminating the on-site support staff.
Press Release
-
Jul 20, 2016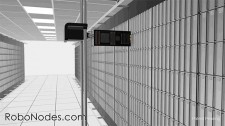 Miami, FLorida, July 20, 2016 (Newswire.com) - PayPerHost.com is delivering its second big innovation. After successfully disrupting the web hosting market by delivering the first fully pay-as-you-go web hosting in the world, PayPerHost is introducing RoboNodes - fully autonomous, ultra dense, ultra efficient data centers.
In today's data centers, cold air is pumped into the server room and thousands of small fans in the servers are moving the air thought the servers. The hot air coming out of the server is lost by mixing with the cold air. In better cases there are cold&hot isles, but it is still far from being efficient.
"The server rack is more than 50 years old. " said Szabo. "There is no other piece of technology in data centers that has survived for so long."
RoboNodes consist of custom server racks and servers. The air used for cooling is completely separated from the air in the server room, which means we capture all of the resulting heat that we can reuse for heating the building or recovering back to electricity. The temperature of the resulting hot air is regulated via valves, which guarantees that no server is being cooled more than necessary.
In case of a server failure, the whole server is replaced by an autonomous robotized vehicle as shown in the video. This removes the need of 24/7 staff on site and allows for small autonomous data centers to be spread to many locations. RoboNodes data centers could be also deployed in cold remote areas and managed remotely.
"We are the global leader in pay-as-you-go web hosting, which means we need a lot of supporting IT architecture" said Szabo. "Working with commodity HW is often painful and inefficient. The idea for the RoboNodes therefore came from the need of more efficient IT infrastructure. Our web hosting cost just around $1/mo, this constantly drives us to achieve better efficiencies."
Source: PayPerHost.com
Share:
---
Categories: Computer Hardware, Servers and Mainframes, Web Services
Tags: data center, pay as you go, pay per use, servers, web hosting
---