Danone North America and Spoiler Alert Share Strong Results in Their Battle Against Waste
Press Release
•
Jul 19, 2023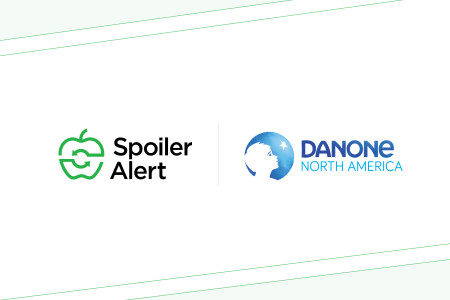 BOSTON, July 19, 2023 (Newswire.com) - Danone North America, the purpose-driven food and beverage leader committed to bringing health through food to as many people as possible, is proud to collaborate with Spoiler Alert, a technology company focused on reducing food waste. By leveraging Spoiler Alert's innovative technology, Danone North America is taking a major step towards reducing its environmental impact and ensuring that more food is available to those who need it.
"Danone North America is committed to reducing food waste across our operations and supply chain, and we are excited to work with Spoiler Alert to further this goal. Their innovative technology and automation solutions provide us with a powerful tool to manage our excess inventory to keep food out of landfills and get it to the people who need it. By working together, we can create a more sustainable and resilient food system for everyone," shares Austin Cutler, Zero Waste Manager, Danone North America.
According to the United Nations, one-third of all food produced globally goes to waste. The food waste crisis not only has environmental impacts but also results in financial losses for businesses. Spoiler Alert, a Boston-based B2B software company, helps leading Consumer Packaged Goods (CPG) organizations manage excess and aging inventory to minimize waste and maximize margin recovery. By working with Spoiler Alert, Danone North America has taken a proactive approach to its ambition to reduce non-recoverable food waste by 50% by 2030.
As of the end of 2022, Danone North America has saved more than 37.7 million pounds of food from going to waste and has reduced its non-recovered food waste ratio by 30% since 2020.
Since partnering with Spoiler Alert, Danone North America has seen over a 50% increase in the sell-through rate of their excess product. As Danone North America works to reduce its excess inventory, Spoiler Alert has further supported with mitigation of remaining excess via its efficient inventory offering and analytics tools.
To further achieve its sustainability goals, Danone North America as part of the B Corp Community has also taken steps to donate food that goes unsold, including:
donating over 100,000 products to local residents at the start of the pandemic through Feeding Westchester
providing 24 million meals through Community Food Share
donating $25,000 to Conscious Alliance to address hunger relief efforts
donating over 4,000 products at the Food For Good initiative with Green Bronx Machine
Danone North America also continues to fight food waste and insecurity through its Two Good yogurt brand's "One Cup, Less Hunger" and Two Good 'Good Save' programs.
Earlier this year, Danone, the parent company of Danone North America, announced a global action plan to reduce absolute methane emissions from its fresh milk supply chain by 30% by 2030, adopting regenerative agriculture models, and making its food and water products accessible to as many people as possible.
Spoiler Alert's platform provides features such as Smart Awarding, negotiations, and offers comparison tools to help businesses sell their excess and aging inventory at the highest possible price. By partnering with Spoiler Alert, Danone North America has been able to divert food waste from landfills and reduce the environmental impact of its operations.
"We are thrilled to see these kinds of results through our partnership with Danone North America and will continue to work together to tackle the issue of food waste in the CPG manufacturing sector," Emily Malina, President & Co-Founder, shares about their partnership. "Our technology is designed to optimize supply chain operations and help businesses reduce waste while maximizing profits. This partnership allows us to leverage our expertise to make a positive impact on the environment while driving efficiencies and cost savings for Danone North America."
With the continued partnership between Danone North America and Spoiler Alert, the two companies are confident in their ability to make a significant impact in the battle against waste and achieve their sustainability goals.
About Danone North America:
Danone North America is a purpose-driven company and an industry leader in the food and beverage category. As a Certified B Corporation®, Danone North America is committed to the creation of both economic and social value, while nurturing natural ecosystems through sustainable agriculture. Our strong portfolio of brands includes: Activia®, DanActive®, Danimals®, Dannon®, evian®, Happy Family® Organics, Honest to Goodness®, Horizon® Organic, International Delight®, Light + Fit®, Oikos®, Silk®, So Delicious® Dairy Free, STōK®, Two Good®, Wallaby® Organic and YoCrunch®. With more than 6,000 employees and 16 production locations across the U.S. and Canada, Danone North America's mission is to bring health through food to as many people as possible. For more information, visit www.danonenorthamerica.com/.
Danone North America is a Danone subsidiary.
About Spoiler Alert:
Spoiler Alert is a Boston-based, B2B software company helping leading CPG brands manage excess and aging inventory. Its customers, which include Campbell Soup Company, Danone North America, Mondelēz International, Nestlé, Unilever, and Kraft Heinz leverage Spoiler Alert's software and services to manage their discounting processes across a private network of discount retailers and nonprofit channels - with a focus on maximizing cost recovery, strengthening customer relationships, and increasing the effectiveness of CPG teams tasked with minimizing inventory write-offs. To learn more, visit www.spoileralert.com or follow us on LinkedIn, Facebook and Twitter.
Contact: press@spoileralert.com, 617-917-4123
Source: Spoiler Alert