Dana P. Oswalt of Benson & Bingham Accident Injury Lawyers, LLC Named One of Nevada's Top Attorneys for 2020
Press Release
-
updated: Sep 15, 2020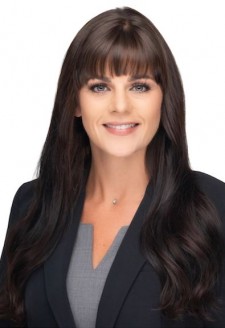 LAS VEGAS, September 15, 2020 (Newswire.com) - Benson & Bingham Accident Injury Lawyers, LLC proudly announces the inclusion once again of Dana P. Oswalt on the list of Nevada Business's Legal Elite 2020 (the Silver State's Top Attorneys). This is the fifth year running Dana was named a Legal Elite: Top Attorneys in Nevada by Nevada Business Magazine.
Dana, who has practiced law in Nevada for five years, graduated in 2010 from the William S. Boyd School of Law at the University of Nevada, Las Vegas, and passed the Nevada Bar on her first attempt in July 2010. In addition, Dana was awarded a Rising Star for Mountain States (Nevada, Wyoming, Montana, Utah, and Idaho) by Super Lawyers this year for the fourth year in a row. Benson & Bingham Accident Injury Lawyers, LLC is pleased to count her as a prominent member of its team and continues to appreciate her contributions to the firm.
Each year, Nevada Business, which bills itself as "the decision makers' magazine," names its most elite members of the legal community to the list. These honorees must receive recommendations from their associates and go through several levels of scrutiny and verification before securing a place on the list.
Nevada Business began the process by individually verifying all applicants, checking their status with the State Bar of Nevada. Once it has verified the attorneys, Nevada Business carefully weighs their attributes. Attorneys need multiple votes to appear on the list, with greater weight given to attorneys who receive nominations from outside their own firms. In addition, after developing the Legal Elite list, Nevada Business contacts the attorneys and conducts further verification with the State Bar before finalizing the list.
Inclusion on the Legal Elite 2020 list establishes an attorney's reputation for excellence and showcases recognition among the attorney's peers. These attorneys, all chosen by their peers, stand out as excellent examples of service, commitment, and determination — attorneys who fight hard to achieve the best possible results for their clients.
Attorneys featured on the Legal Elite 2020 list include those who practice in all areas of Nevada law, including family, criminal, and personal injury law attorneys. Benson & Bingham Accident Injury Lawyers, LLC falls into the latter category.
At Benson & Bingham Accident Injury Lawyers, LLC, all of our attorneys, including Dana P. Oswalt, pride themselves on a high commitment to excellence in dealing with all our clients. For anyone who has suffered serious injuries due to another party's negligence, contact us today for a free consultation.
For more information, call Joe Benson at Benson & Bingham Accident Injury Lawyers, LLC at (702) 382-9797 or email info@bensonbingham.com.
Source: Benson & Bingham Accident Injury Lawyers, LLC
Share:
---
Categories: Legal Services
Tags: benson & bingham, dana oswalt, las vegas accident attorney, las vegas personal injury lawyers, legal elite 2020, nevada business magazine, nevada injury lawyers, nevada personal injury lawyers
---