Dale Ventures acquires global e-commerce platform, Arcadier
Press Release
•
Jul 14, 2023
Dale Ventures, a globally recognized venture capital group, acquires Arcadier, one of the world's leading e-commerce platforms for online marketplaces. This landmark acquisition underscores Dale Ventures' commitment to nurturing innovative technology with significant global potential.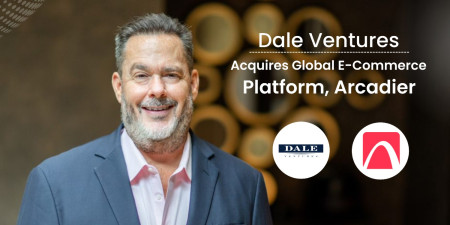 DUBAI, United Arab Emirates & SINGAPORE, July 14, 2023 (Newswire.com) - Dale Ventures, a global venture capital and investment holding group headquartered in Dubai, has acquired Arcadier Pte Ltd, a prominent Singaporean company and one of the world's leading e-commerce platforms for online marketplaces. This significant acquisition highlights Dale Ventures' ongoing dedication to fostering technological solutions that have substantial global impact.
Industry predictions indicate that the global e-commerce market is on track to reach an impressive value of $24.3 trillion by 2025. Online marketplaces already contribute to 62% of global web sales and are positioned to continue to disrupt conventional retail, service, and B2B sectors. Since its inception in 2013, Arcadier has worked to overcome the challenge of accessing the complex technology needed to run online marketplaces and has provided its clients with a holistic support system that caters to their needs.
By creating an easily customizable and affordable system to build marketplaces, Arcadier provides its clients with the best services possible for technology, development, marketing, and shipping. Arcadier provides unparalleled customer service to give its clients all the tools they need for online buying and selling success - regardless of an organization's size, origin, or resources. Arcadier goes beyond its core offerings with Arcadier Enterprise, an enterprise-grade e-commerce solution tailored specifically to the needs of large organizations and multi-brand retailers. This specialized platform empowers businesses to craft customized marketplace experiences that align with their unique requirements. By addressing industry trends and the need to act quickly and cost-effectively, Arcadier demonstrates its commitment to providing comprehensive solutions that propel businesses forward in the dynamic e-commerce landscape.
"Arcadier has already played a vitally influential role in shaping the future of the e-commerce industry, and we know this is only the beginning," said Dale Wood, Chairman of Dale Ventures. "The Arcadier team has turned every challenge into an opportunity to democratize marketplace technology and make the world of e-commerce accessible to all. We are thrilled to have acquired what we consider to be a revolutionary platform and look forward to continuing its impressive legacy."
With the backing of Dale Ventures, Arcadier is poised to experience accelerated global growth, solidifying its position as a dominant market leader.
"On behalf of myself and fellow Arcadier founders, Paul Cascun and Gary Ramsell, we are delighted to have successfully concluded this transaction," said Dinuke Ranasinghe, the founder and chairman of Arcadier. "The support and endorsement from Dale Ventures, an esteemed venture fund, validates the significance of our technology and the strategic path forward for the business."
_________
Media Contact
Dale Ventures Pte Ltd
contact.ae@dale.com
Jumeirah Lake Towers Cluster I
Platinum Tower 12th Floor; Suite # 1207
Sheikh Zayed Road Dubai, United Arab Emirates
About Dale Ventures
Dale Ventures, dale.com, is a global venture capital and investment holding group based in Dubai, United Arab Emirates. It is known for its investments and acquisitions in various industries, with a focus on technology-driven companies. Dale Ventures actively seeks opportunities to support and grow innovative businesses that have the potential for significant global impact. The Dale Ventures headquarters in Dubai serves as a hub for operations and strategic decision-making.
About Arcadier
Arcadier, arcadier.com, stands as the pre-eminent e-commerce platform specializing in online marketplaces, garnering multiple prestigious awards for its innovation. Operating in over 170 countries, Arcadier has established itself as a leading force in e-commerce by empowering large enterprises, SMBs, governments, and start-ups to effortlessly and economically develop their own customized online marketplaces under their own brand.
Source: Dale Ventures Pte Ltd