Daisies, Cupcakes, and Ice Cream…What's Not to Like?
The all new Yellow Daisy Paper Co. launches May 23rd with their very first collection.
Press Release
-
Jun 14, 2016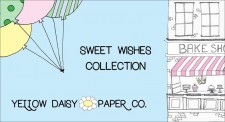 Houston, TX, June 14, 2016 (Newswire.com) - A new independent stationery line, The Yellow Daisy Paper Co. specializes in bright cheerful designs made from unique illustrations and clean humor, so that you can share in the happiest moments of their lives…without offending your Mother!  It's a company geared towards those of us that want funny, with a little bit of class.
Owned and operated by Lisa Dockery, the company launches online May 23rd.  Her first collection, Sweet Wishes, is a line of illustrated greeting cards full of delicious treats like ice cream, cupcakes, and irresistible wishes to sweeten their day.  This whimsical line offers something for all of the special people in your life. There's a little something for Father's Day, as well as birthdays, and expecting parents.
Lisa's designs are heartfelt, cheerful, and always inspired by something or someone she loves. "In this age of social media I love helping people get back to the basics with the written word." Lisa believes that small acts of kindness, like a giving someone the perfect card, is one of the most meaningful gestures you can make.  "It takes more effort to pick out a card for someone than it does to just send a text, or post on social media.  You have to put yourself out there, and write something from your heart, which means so much more."  Take a minute to check out Lisa's site and new yummy Sweet Wishes collection at www.yellowdaisypaperco.com
Lisa Dockery started her own business in 2013 when she got the nerve to take the plunge from the corporate world where she spent her days implementing software. Burned out from the corporate grind, she knew she wanted to do something more meaningful.
After a lot of deliberation, she took the plunge and opened an Etsy shop.  "My first sales were so exciting I decided a few months later to open a brick & mortar store... The Nested Turtle.  We were located in the historic downtown area of Amelia Island, FL. offering handcrafted home decor, gifts, and my own stationery line."
A family job change, and out of state move prompted the closing of the brick and mortar store in FL.  This gave Lisa a new opportunity to focus on her own products and grow her business through re-branding to the Yellow Daisy Paper Co.
Source: Yellow Daisy Paper Co.
Share:
---
Categories: A&E News, Arts and Entertainment, Hobbies and Crafts
Tags: Etsy Seller, Greeting Cards, Handmade Movement, Illustration, Small Business, Stationery
---