D L English Design 'Comes Up Roses' With New Rose Garden Tea Room Interiors Project at The Huntington
Press Release
•
updated: May 27, 2023
D L English Design (DLE), a woman-owned multi-disciplinary design and fabrication firm in Pasadena, California, was selected to design and decorate the interiors of the iconic Rose Garden Tea Room at The Huntington Library, Art Museum and Botanical Gardens. For more information: www.dlenglishdesign.com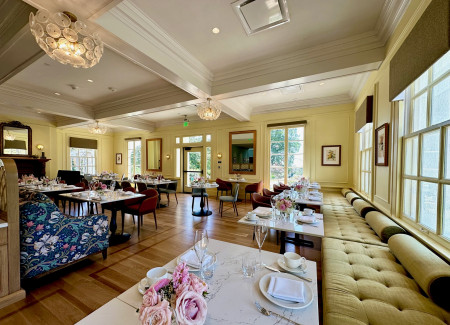 SAN MARINO, Calif., May 25, 2023 (Newswire.com) - D L English Design provided interior design, custom furnishings design, and procured and installed furnishings for all the public areas of the newly renovated Rose Garden Tea Room. "We were asked to design spaces that provide an experience unique from the other restaurants on property, befitting the honored tradition of 'Tea at The Huntington," said founder/president Deborah English.
DLE's work included all key public spaces, including the Tea Room, the Herb Room, The Shakespeare Room, connecting concourse/common areas, and restrooms. Guided by the context of the tea room's historical architecture and beloved rose gardens, DLE weaved a story of color, materials, patterns, contextual furnishings, and space. A design language was developed by carefully selecting modern versions of traditional trims and moldings used throughout. Each area has a signature color that works alone or with the color palettes of the other rooms and the gardens they face.
The Tea Room (1,071 SF) pulls its floral connection and sensibility from the 100-year-old rose garden to the south. DLE appropriately designed the room to show reverence for tradition while allowing for comfort and accessibility to hosting various events and diverse guests. Rich and textured fabrics are exhibited throughout the space. The central 17-foot-long Morris & Company upholstered settee showcases a pattern from The Huntington's historical collection.
The Herb Room (614 SF) faces the curated herb garden on the west. The garden is a functioning, structured garden that provides the herbs for the tea room's kitchen. The finishes used throughout this space have an ordered look, with the rigor of paneled walls and larger trims referencing storage and organization. The area is designed to be flexible, allowing for separate executive meetings or private events to run concurrently.
The concourse includes the common area spine and restrooms (1,906 SF). The open space has high ceilings allowing natural light to enter and is intentionally designed to be transitional as guests move from one dining space to the next. The span connects the Tea and Herb Rooms to the Shakespeare Room (1,394 SF outdoor covered space) at the opposite end of the concourse. The new Shakespeare Room is an outdoor dining pavilion facing the Shakespeare Garden and museum grounds. The space includes potted citrus trees and substantial wood tables and chairs selected for their exterior scale and functionality.
DLE curated finishes, fixtures, and furnishings throughout the building in collaboration with The Huntington and the Project Architect, ARG. Finishes were selected to functionally modernize the facility without sacrificing The Huntington's legacy and tradition, preserving the tea experience for a new generation of guests.
Source: D L English Design
Related Files