CycleBar Taps Jesse Alexander, Former Creative Director of IMAXshift
Press Release
•
updated: Jun 6, 2017
CycleBar is the first premium and only indoor cycling franchise in the world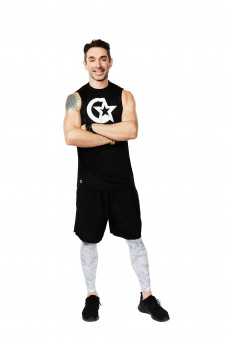 Fort Lee, NJ, June 6, 2017 (Newswire.com) - ​​Jesse Alexander, one of NYC's visionary and elite indoor cycling instructors, is joining CycleBars' growing roster of Master Training Instructors and will be based out of studios in Bergen County, New Jersey. Alexander was the Creative Director of IMAXshift and instructor at Flywheel Sports. He starts at CycleBar this Saturday, June 10th at 8 a.m. at the Fort Lee, NJ location and will also be in Closter, NJ.
CycleBar's Director of Instructor Training and Class Experience, Tevia Celli, stated, "Jesse Alexander is coming on as a Master Instructor for my training team. As a Master Instructor, Jesse will help facilitate boot-camps for studios opening on the East Coast as well as other demographics when needed. Jesse brings so much knowledge to the table and I am looking forward to being back on the same team with him."
CycleBar's Fort Lee & Closter co-owners Marisa Kochnover and Abbey Braverman say the exciting recruit is indicative of CycleBar's competitive edge in the indoor cycling world. "We are beyond thrilled to welcome Jesse Alexander as a Master Instructor to the CycleBar brand and that he has found a home with us and our two studios. His unparalleled combination of talent and swagger will be the perfect complement to our already fiercely strong team!" says Kochnover.
For his part, Alexander considers CycleBar the future of modern cycling: "CycleBar is a perfect blend of everything I love about indoor cycling and fitness. I have many years of experience in various studios and this is the first time I will have this kind of creative freedom on the bike. I see a place where as a master instructor I can create a ride — an experience — which includes my love of riding to the beat, rhythm, and sweating. Combined with my years of HIIT training & using the metrics on the bike, I am ecstatic to be able to deliver a ride that will genuinely feel like 'mine'. My greatest professional passion is leading my riders to their next level with the beat of the music as our guide, rhythm riding with reckless abandon as our tool and always, tapping it back — especially when I can infuse my Brooklyn boy, East Coast flavor. My vision for the east coast (and beyond!) is for everyone, no matter what their vibe is — performance-driven or rhythm-based rides — they will find something in the CycleBar experience for them."
THE CYCLEBAR PHENOMENON
It's a revolution. As the first and only indoor cycling franchise, CycleBar celebrates an extraordinary inaugural year with 274 franchise licenses, as held by 158 owners. Ninety-four are currently open and in full operation, with 44 more expected to launch by the end of 2017. CycleBar's dynamic and unique point of view brings its state-of-the-art studios and community engagement to neighborhoods across the country. With more 100 new studios on the horizon for 2018, CycleBar's primary focus is on helping new partners to engage local residents with the invigorating CycleBar experience both inside and outside of the studio.
THE CYCLEBAR EXPERIENCE
CycleBar offers a pay-per-class, with no membership necessary. Concierge service and amenities include complimentary towels, showers, lockers, and shoes. The multi-sensory classes take place in CycleTheatres led by CycleStar instructors who take participants on a 50-minute high-energy ride. The CycleTheatre features tiers for 50 bikes plus LED lighting, wide-screen graphics and state-of-the-art audio with a DJ booth. Riders can also track performance data via CycleStats and can download our exclusive CycleBeats music used in the class session. CycleBeats is our music database of millions of songs and videos that deliver peddle-turning, heart-stopping, music-pumping joy every time you ride. After class, riders cool down with fresh fruit and enhanced water, while aromatherapy helps guests relax throughout the facility. For more information, visit http://fortlee.cyclebar.com.
THE CYCLEBAR STORY
In 2004, Bill Pryor and his sister Alex Klemmer created one of the first independent cycling studios in the country right outside of Boston. Both Pryor, then a corporate executive, and Klemmer, a stay-at-home mom, recognized that there were three key ingredients to a successful indoor cycling experience: great instructors, great music and a great environment. They opened their first dedicated CycleBar studio a year later and have been perfecting their high-energy, cycling-focused concept ever since.
Now, 10 years later, Pryor and Klemmer have partnered with Jimmy Wilde and Lisa Hillman, successful studio owners from Detroit, plus franchise pros from St. Gregory Development to allow others to enjoy and benefit from
the CycleBar experience that allows for further custom development for the particular community it serves.
CycleBar unites riders of all ages and fitness levels by creating an unparalleled multi-sensory, inspiring journey. Led by engaging, high-energy CycleStar instructors and fueled by the incredible CycleBeats music playlists in our state-of-the-art CycleTheatre, CycleBar delivers far beyond a great cardio fitness workout. Underscoring its community spirit, CycleBar offers CycleGiving, a philanthropic movement that invites local organizations and charities to help raise money one ride at a time.
Media Contact:
Kristen Campbell
(551) 427-2590
Kristen@kcconsultingltd.com
Source: CycleBar
Related Media
Additional Links