CyberShelter Partners With MazeBolt to Enable Proactive DDoS Security
Press Release
•
May 31, 2023
Partnership Delivers Transformative RADAR™ Solution for Organizations to Level Up Their DDoS Protection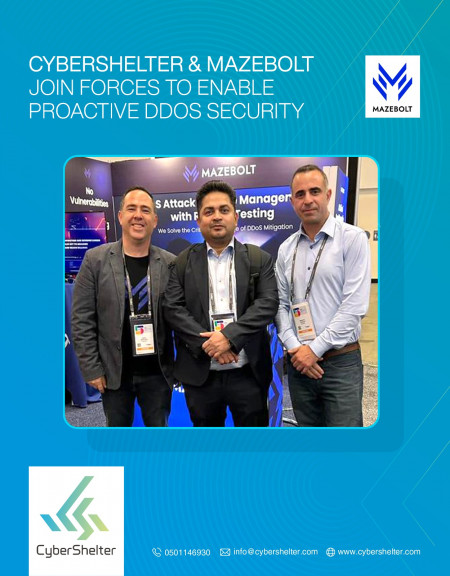 DUBAI, Arab Emirates, May 31, 2023 (Newswire.com) - CyberShelter, one of the leading providers of comprehensive and cutting-edge cybersecurity solutions in the Middle East, announces a new partnership with MazeBolt, the creators of RADAR™ testing, the only solution that enables organizations to see their DDoS vulnerabilities.
Amid a barrage of DDoS attacks across the region, CyberShelter tapped MazeBolt RADAR in order to arm cybersecurity teams with crucial insight into vulnerabilities within their online services and protection layers to reinforce their DDoS defenses. A seasoned cybersecurity expert and well-known CISO in the region with experience in leading cybersecurity programs at major organizations such as banks, stock exchanges, and ISPs, Mr. Illyas Kooliyankal, CyberShelter's CEO, commented, "We're seeing a surge in DDoS attacks against many enterprises in the region due to the acceleration of global digitization, leaving them extremely vulnerable to DDoS threats." He noted, "Adding RADAR to our offering strengthens our ability to provide our customers with best-in-class protection from all cyber threats."
"We're excited to join forces with Illyas and CyberShelter," said Matthew Andriani, CEO of MazeBolt. "For the first time, organizations in the region will be able to easily identify hidden vulnerabilities across their online services and remediate blind spots prone to a DDoS attack, continuously and without compromising business operations."
RADAR runs tens of thousands of DDoS simulations, against all production services, allowing organizations to visualize vulnerabilities, take precise actions to remediate before being attacked, and achieve over 200% improvement in DDoS protection. The solution seamlessly works with all the organizations' existing protection layers to bring visibility into online services' vulnerabilities through continuous and non-disruptive testing.
About CyberShelter
CyberShelter provides groundbreaking cybersecurity solutions to foster a secure and resilient digital ecosystem. CyberShelter is a leading provider of comprehensive and cutting-edge Cybersecurity solutions, a team of highly skilled and dedicated professionals, who are always ready to safeguard businesses from cyber threats.
About MazeBolt
MazeBolt is pioneering a new standard in achieving DDoS resilience by providing enterprises with non-disruptive, full online services coverage. RADAR™, an industry-first solution, continuously tests tens of thousands of potential DDoS attack entry points, identifying how attackers succeed in bypassing existing protection systems. RADAR's autonomous risk detection allows cybersecurity teams to go beyond traditional DDoS testing to uncover blind spots and misconfigurations in their protection layers by continuously testing, analyzing and prioritizing remediation with zero operational downtime. Global enterprises, including financial services, insurance, gaming and governments rely on MazeBolt for full visibility into their true DDoS security risk.
Source: CyberShelter