Cybersecurity Company Spider Labs, Ltd. Renews Certification for Trustworthy Accountability Group (TAG) Certified Against Fraud Seal
Spider Labs, Ltd. is pleased to announce that it has been recertified by the Trustworthy Accountability Group in its Certified Against Fraud category.
Press Release
-
updated: Apr 20, 2021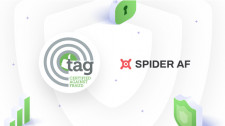 TOKYO, April 20, 2021 (Newswire.com) - Since Spider Labs' certification in March 2020 as the first vendor in APAC and Japan, the company has been providing its customers with one of the world's highest level of fraud detection services through its anti-fraud tool "Spider AF".
Ad fraud is the practice of fraudulently stealing advertising expenses by creating the appearance of human interaction and impressions through online ads. Ad fraud is a product of the complexity and lack of transparency in ad delivery and the methods are becoming more sophisticated with damages growing year by year.
TAG is the leading global certification program fighting criminal activity and increasing trust in the digital advertising industry. TAG advances its mission of eliminating fraudulent traffic, facilitating the sharing of threat intelligence, and promoting brand safety by connecting industry leaders, analysing threats, and sharing best practices worldwide. The 600+ member TAG community include the world's largest and most influential brands, agencies, publishers, and ad tech providers. TAG is the first and only Information Sharing and Analysis Organization (ISAO) for the digital advertising industry. 
As part of JICDAQ's recent launch in Japan, the organisation also announced their partnership with TAG to introduce a simple mechanism for businesses complying with TAG's global certifications to receive JICDAQ certification. 
Click here to see the companies included in TAG's Certified Against Fraud category.
Spider Labs CEO: Satoko Otsuki
"We are very pleased to be recertified for TAG's Certification Against Fraud category. JICDAQ, an auditing and certification organization for digital advertising quality, was established in Japan this year. We believe awareness of ad verification will further increase hereon. Spider Labs will continue to maintain global standards and work to improve the health of the advertising industry as a leading anti-fraud company in the Japanese market."
Nick Stringer, TAG VP International said "Congratulations to Satoko-san and the Spider Labs Team for achieving the TAG Certified Against Fraud seal. It's great to see more organisations in Japan choosing to adopt the global industry standards for digital advertising and keeping digital crimes at bay. We are looking forward to working with Spider Labs again in this coming year."
Mike Zaneis, TAG CEO said "Achieving the TAG Certified Against Fraud seal is no small feat. Spider Labs' recertification demonstrates the commitment they have to their clients in ensuring the client's digital advertising investments are protected against digital crimes. At TAG, we work closely with our members to ensure the global standards set for all of our programmes are relevant for every region and aspect of our industry, so it's great to see that Spider Labs' continued efforts in making our industry safe. Congratulations again to Satoko-san and the team!" 
<Contact for press Inquiries regarding this matter>
Spider Labs, Ltd. PR Hashimoto
Email: pr@spider-labs.com
Source: Spider Labs
Share:
---
Categories: Advertising
Tags: Ad Fraud, Advertising, Brand Safety
---