CUTV News Welcomes John Spenker of Synergistic Coaching & Consulting
Press Release
•
updated: Aug 29, 2018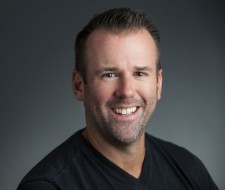 SAN FRANCISCO, August 29, 2018 (Newswire.com) - CUTV News today announced that John Spenker of Synergistic Coaching & Consulting is featured in an exclusive sit-down, one-on-one conversation with host Jim Masters in the CUTV News studio.
To embrace the future we must first change the relationship we have with change. Our world is built upon evolutionary change and growth. Our ability to navigate life and our agility to dance between the moments of achievement and loss define who we are and become the words of our legacy.
Change is natural and understanding that opens doors to our potential and purpose.

John Spenker, Founder, Synergistic Coaching and Consulting
John Spenker is the catalyst for change and the founder of Synergistic Coaching and Consulting where he specializes in change management for organizations, teams and individuals.
"Change is hard," says Spenker. "You really have to dig deep and bring the best of the best forward. It's helpful to have someone who can guide and mentor you along the way."
According to Spenker, change management is all about understanding our behavior and how our behavior affects our ability to achieve goals for ourselves and our organizations.
Spenker says long before he even knew what a coach was, he was driven to help people. He describes his approach as grounded in curiosity.
"The things we say and do reveal ourselves. If you can help people recognize these nuances in their own behavior, that's the special sauce for change," says Spenker. "In coaching personal and professional development, I can hear those moments when the instruments are out of tune. That's my opportunity to be curious in a nurturing way and help the person understand."
Spenker's coaching approach is based on the philosophy of Systems Thinking. Systems Thinking explores how dynamics change based on changes in variables. This approach is especially effective with teams because it is focused on improving communication.
"A lot of work with groups and teams is what's not being said," explains Spenker. "It has little to do with who they are but rather the comfort they have with one another. It's about what people need to understand to have the right conversations and move the team forward."
Spenker says this work is fundamentally about why you get up in the morning, a foundational principle of positive change.
"We often think of change as an incident: something that happens and we react to," says Spenker. "I think of change as a propulsion and that momentum is moving us forward. Change is natural and understanding that opens doors to our potential and purpose."
To learn more about Synergistic Coaching & Consulting, visit http://www.spenker.com
Source: CUTV News
Related Media