CUTV News Welcomes Dineen Carta, Author of 'Loving the Ache: A Woman's Journey'
Press Release
-
updated: Dec 5, 2018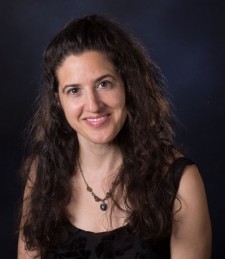 ALBANY, N.Y., December 5, 2018 (Newswire.com) - Many people struggle to speak their truth, what their needs and values are, in their relationships and in their career. The needs and values of others gain more credibility than their own.
The inner voice is the essential self within. If people as women and men can become more aware of their inner voice, they can draw on it to make more conscious choices with their lives.
Dineen Carta is the author of "Loving the Ache: A Woman's Journey," a collection of poetry and prose that explores the connection between people's sensuality and spirituality.
"My personal journey has been trying to figure out how to navigate my sensual self in a world where we're often confronted with negative cultural frameworks," says Dineen. "'Loving the Ache' is an exploration of every relationship that we live as women: our relationship as mothers; as partners; with God or spirit; and ultimately the relationship we have with ourselves. The reason I chose poetry as a vehicle is because I wrote from my inner experience."
According to Dineen, it's very easy for women to form their identity based on ideas that are constructs. These ideas are validated and reinforced by the media and even other women. Ultimately, they have to be true to themselves, which begs the question: "Who are you really?"
"Loving the Ache" asks women how to be who they are instead of what society tells them they should be. Dineen describes the book as "a bird's eye view of the inner life of a woman."
"The ache is that universal, profound, deep desire within every person to be truly known and truly unite with another human being in both a spiritual and sensual sense," says Dineen. "Any man who wants to understand what it feels like to be a woman, how to reach a woman, how to know a woman, how to love a woman, would benefit from reading it as well."
Life is not a straight path and it's not going to be. Who a person is can be more fluid.
Dineen is a certified psychosynthesis transformational life coach and the founder of Unveil Your Voice Life Coaching where she specializes in helping men and women find their authentic, creative, prolific selves.
"I see people's inner excellence and I enjoy seeing their growth," says Dineen. "Each person has their own unique beautiful path and their own beautiful way of expressing themselves in the world. It's meant to be heard whatever it is. So I want to help other people find that and live from there. That's where the joy is."
For more information on Unveil Your Voice Life Coaching, visit www.UnveilYourVoiceLifeCoaching.com.
Source: CUTV News
Share:
---
Categories: Books, Personal Growth
Tags: life coaching, poetry, sensuality, spirituality
---