Cutting Edge Golf Fashion Available Only to Those "In the Know"
Start-up producer of stylish, motivational golf clothing and accessories Golf Warrior™ is making its products available for the first time ever. Items are available only on Kickstarter.com. All Golf Warrior™ clothing includes a motivational phrase called a Moti-Golfrase™ to help the wearer express themselves and stay focused on their game.
Press Release
-
Mar 21, 2016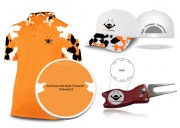 Las Vegas, Nevada, March 21, 2016 (Newswire.com) - Golf Clothing and Gear now available for the first time with vibrant colors and motivational phrases known as "Moti-Golfrases™".  But it's only available from one place.
"Before now, golf clothing and gear was boring, and didn't reflect the passion and love of the game that most golfers have" said Golf Warrior™ founder and former golf pro David Ross.  "Now golfers of all skill levels will have highly functional, eye catching, great looking golf clothes that match their passion for the sport!"
Golf Warrior™ gear is designed to help you play your very best. It's awesome looking, comfortable, AND inspires Every Swing with motivational messages!
All Golf
Warrior™
shirts and caps are made with high tech, moisture wicking,
poly
-mesh fabric that keeps the wearer dry and cool.  The material is also anti-bacterial, which reduces odors and prevents stains, and is guaranteed to never fade.
"The thing that really makes our products memorable for golfers is our Moti-Golfrases™" says Mr. Ross.  "These are an outgrowth of my time as a golf pro, and are the things I would say to my students, and sometimes to myself as well, when trying to keep them focused on what they were doing.  It adds an element of fun and excitement that's never been available in golf wear".
There is only one place where you can purchase Golf Warrior™ polos and hats at this time.   On their Kickstarter page at: https://www.kickstarter.com/projects/motivationalgolf/golf-warriortm-motivational-golf-apparel-and-acces
Golf Warrior™ is a startup company in Las Vegas, Nevada that makes motivational and colorful golf clothing and accessories.
Share:
---
Categories: Funding, Golf, Sports News
Tags: apparel, clothing, crowd-funding, gear, golf, golf warrior, hats, kickstarter, motivational, polo shirts
---