Cut Golf Announces Second Annual Cut Golf Invitational
Press Release
-
updated: Oct 17, 2018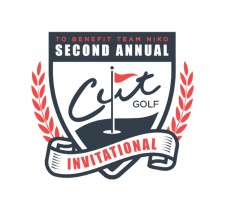 COSTA MESA, Calif., October 17, 2018 (Newswire.com) - ​Cut Golf is proud to announce the Second Annual Cut Golf Invitational at Strawberry Farms Golf Club in Orange County, California. Locally known as "The best d*** tournament," the event supports Team Niko.
The two-day Cut Golf Invitational tees up on Wednesday, Oct. 17, 2018, at 3 p.m., with a competitive nine-hole, par-3 shoot-out at Newport Beach Golf Course. An opening reception for sponsors and guests will be held at The Country Club with hosted cocktails and hors d'oeuvres will follow after the par-3 shoot-out. On Thursday, Oct. 18, 2018, Cut Golf hosts the Second Annual Cut Golf Invitational at Strawberry Farms in Orange County, California, with a shotgun start at 12 p.m.
Attracting celebrities, social media influencers and editors from around the country, Cut Golf has found their niche in the golf ball industry. By creating the "Best Damn Golf Balls for Under $20," Cut Golf manufactures quality 3-piece and 4-piece urethane golf balls, along with an extensive line of surlyn and matte finished golf balls all under $20.
"For being in the golf industry for a little over two years now, we formulated an in-depth and exciting culture that golfers want to be a part of," says Sam Uisprapassorn, founder. "I think that's why we wanted to start an annual Cut Golf Invitational. It's an opportunity to gather our friends from all around the world for a two-day event of not just fun, but also supporting something close to our hearts - Team Niko."
Team Niko is a nonprofit created for Niko Greco, a 10-year old who was diagnosed with leukemia in 2014. Despite his own battle, Niko's hope was to give backpacks to his "buds" in need. This charity does just that. A portion of the proceeds from this event will go towards providing backpacks for underprivileged children in and around Costa Mesa. 
For more information on Cut Golf's Second Annual Cut Golf Invitational, please visit, https://www.cutgolfco.com/invitational2018. Current sponsors include: WINDES: Audit, Tax, and Advisory; Philly's Best Cheesesteaks; Electric Golf; Slap Ya Mama – Authentic Cajun Products; Wedge Wizard; Piretti; NL; Birdicorn; CVRD; Stogies & Bogeys; Golf Life; SCNS Sports Foods; Ship Sticks and Tropicana – Golf Club & Barber Shop.
About Cut Golf, a group of guys who believe that high-quality golf balls don't need to be expensive. Cut was born from rising frustration with the ridiculous cost of quality golf balls. Tired of losing one expensive golf ball after another, the guys decided that there had to be a better way to purchase quality golf balls at a reasonable price. Through extensive testing, Cut Golf developed its line-up with all types of golfers in mind. By pairing their quality product with an efficient business model, Cut Golf is able to offer savings without compromising performance. Just like golfers everywhere, we are passionate golfers, looking to save some dough and enjoy the time on the course. Cut Golf hopes to share its passion with its customers. It's time to "Cut the Crap" and start getting quality performance for less.
Media Contact: Curtis Rogers | KC Public Relations | 716.860.2331 | curt@kcpublicrelations.com
Source: Cut Golf
Share:
---
Tags: #California, #CostaMesa, #CutGolf, #Golf, #LosAngeles, #SoCal, #Sports
---