Customers Are Drooling Over New Product Line
Press Release
•
updated: May 2, 2016
Labor of Love Baby Boutique is surprising its customers this week with a gorgeous new collection of trendy bandana bibs for the modern baby.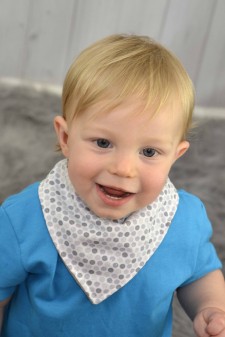 Newmarket NH, May 2, 2016 (Newswire.com) - On Friday Jessica Ekanem, owner and designer behind Labor of Love Baby Boutique, is unveiling the newest addition to its baby and toddler line of products. The new collection of trendy bibs offers a very modern take on a traditional bib, perfect for teething babies. The sophisticated design sits effortlessly around the baby's neck like a scarf, keeping their clothes clean and dry.
"I always hated covering up my daughter's gorgeous outfits with large obnoxious bibs intended for mealtime," says Jessica, "my new collection is launching with over 35 different prints and colors so parents can accessorize their baby's outfits instead of just covering them up".
The bandana bibs are made with quality cotton fabrics in a variety of fun colors and patterns and backed with premium plush velour fabrics that are soft and gentle against baby's sensitive skin and perfect for all day wear.
Today's modern mom is looking for fashionable and functional accessories and bandana bibs are perfect to coordinate with their baby's wardrobe.
About Labor of Love Baby Boutique:
Labor of Love Baby Boutique is a baby lifestyle brand offering a wide range of handmade infant and toddler products for life's unforgettable moments from the first giggle to the first day of school.
Jessica Ekanem launched Labor of Love Baby Boutique in 2011 after her first baby was born. As a new mom with an entrepreneurial background and a strong creative drive, she opened an Etsy shop in the hopes to contribute to her family's growing bills.
Jessica started Labor of Love Baby Boutique making cloth diapers. The shop quickly grew and she started offering other baby must haves like bibs, rattle toys, and soft soled shoes. After the birth of her second child, a little girl, she quickly jumped in and started offering clothing for all occasions from play-dates to pageant wear and everything in-between. Families all across the United States, Canada, as far as Singapore and Australia, enjoy Jessica's handmade garments and accessories.
The company aspires to be a market leader in sales of handmade designer baby and children's clothing and accessories across the country.
CONTACT INFO:
For all the latest news and sneak peeks or for additional information about Labor of Love Baby Boutique, please contact Jessica or visit:
Email: Jessica@lolbabyboutique.com
Website: www.lolbabyboutique.com
Facebook: www.facebook.com/lolbabyboutique
Source: Labor of Love Baby Boutique
Related Media