Custom Trained Autism Response Dog Delivered to 4-Year-Old Girl in Hollister, California
Service Dogs by Warren Retrievers has hand-delivered a highly trained Autism Service Dog to four-year-old Kelani in Hollister, California this week.
Press Release
-
updated: Feb 12, 2018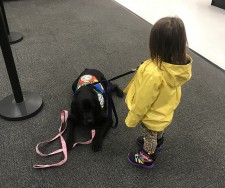 Hollister, CA, December 11, 2017 (Newswire.com) - Four-year-old Kelani from Hollister, California, has received a very special delivery this week. Service Dogs by Warren Retrievers has hand-delivered their Autism Service Dog named "Lisa." Based in Madison, Virginia, Service Dogs by Warren Retrievers (SDWR) has a mission to provide specially bred and trained dogs for adults and children of all ages with invisible disabilities like Diabetes, PTSD, Seizure Disorders, or in the case of Kelani—Autism Spectrum Disorder. SDWR has nearly 600 service dogs working across the US and around the globe. SDWR is currently serving nearly 1,000 families.
Lisa, a labrador retriever Autism Service Dog, has already received thousands of hours of training through SDWR's service dog in training program where volunteers raise puppies beginning at age 4 months in training for about a period of one year. These future service dogs are then taught through the foundation and skill set training provided through SDWR trainers at the facility in Virginia. Lisa will continue to learn under the careful guidance of a certified trainer from SDWR and through the rapport he builds with Kelani and her family.
Kelani has developed a complex set of challenges in her young life. Diagnosed with Autism at age 3, Kelani has issues with elopement, sleeping through the night, meltdowns with Self Injurious Behavior, and lack of social skills. Kelani also struggles with sitting still in her classroom environment. Certain environments and sounds terrify her and she will simply drop to the floor and cover her ears. These are but a few of the common challenges of Autism Spectrum Disorder. Autism Service Dogs are trained to increase socialization and communication, improve sleep patterns, redirect from self harm, and prevent elopement.
Kelani's younger sister, 2-year-old Lahela, is also diagnosed with Autism. "With two daughters, I can have my hands full with Lahela and not be able to comfort or attend to Kelani when this happens which results in an increased distress," says their mother, Karla. Kelani's family is hopeful that Lisa will be able to provide a sense of stability and comfort to their household.
Lisa has received essential training to assist Kelani and her family members to live happier and more enriching lives. Since Lisa is a service dog and covered under laws in accordance with the Americans with Disabilities Act, he will be able to accompany Kelani and her family everywhere. This means Lisa will be able to go with the family to the water park in the summers, restaurants, the grocery store, and even the trampoline park.
Lisa will continue to work with the SDWR trainers to learn new skills to assist Kelani as well as to achieve public access certification. What sets SDWR apart from other non-profit service dog organizations are the customized training methods and SDWR matches dogs to their "person." This is an 18-month program for follow up and customization training. Through progression, hard work, and dedication of the organization and the family, they will work together to build on training foundations and fundamentals.
Service Dogs by Warren Retrievers is a non-profit organization based in Madison, Virginia, and relies on donations to help the organization in its mission, "Until there's a cure…there's a dog." To make or donation or learn more about SDWR, please visit the website, http://www.sdwr.org. To learn more about Autism Service Dogs visit http://www.sdwr.org/service-dogs/autism/. To find out how you can volunteer with SDWR visit http://www.sdwr.org/volunteer-opportunities/ .
Source: Service Dogs by Warren Retrievers
Share:
---
Categories: Non Profit, General Interest, Special Needs and Disabilities
Tags: Autism service dog, Dogs for children with autism, service dog for autism, Service dog for autistic child
---