Custom Entertainment Solutions Introduces New Mecha X Robotic Hand
Press Release
-
Jun 30, 2016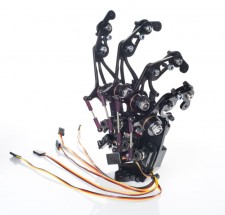 Salt Lake City, June 30, 2016 (Newswire.com) - Robotic hands are everywhere! Custom Entertainment Solutions has designed and built over 10 variations of robotic hands for clients world-wide for more than a decade. Every client, from Intel to Johns Hopkins University to a team of engineering students in Tunisia needs something slightly different. Extraordinarily complex and maintenance heavy robotic research hands can cost anywhere from $20,000 to $115,000 USD! Most cannot afford such an investment, and most do not need all that complexity. Some "makers" turn to completely 3D printed hands made of plastic as they are extremely cheap and fun. Unfortunately, printed plastic parts do not have the strength of real, solid aluminum parts. SO…why not have both?
Mecha X Hands provide the simplicity and durability of a fully CNC machined anodized aluminum frame and parts with the flexibility to expand – using your own creativity – the functionality of the hand by 3D printing your own add-on components. Need foam fingertips with pressure sensors? No problem, just add it to the Mecha X hand. How about adding more flash to your animatronic display by using ultra bright LEDs to light up your hand? 3D print your own parts, add them on, and you have a reliable hand that is customized exactly how you like it.
For example, team "Night's Watch", comprised of computer science engineering students in Tunisia, participated in "The Microsoft Imagine Cup 2016". They needed a prosthetic hand but could not afford the traditional prosthetic hand investment. 3D printing the entire structure was not a good solution as this hand needed to be strong and lightweight. They also wanted to customize the hand to take inputs from a "Myo" arm band. They succeeded in controlling the Mecha X Hand from an amputee's forearm and won the competition!
To learn more about Custom Entertainment Solutions' products and services, interested individuals may visit their website at http://animatronicrobotics.com. The site contains a plethora of information as well as a short video demonstrating the basics of their services.
About Custom Entertainment Solutions
Custom Entertainment Solutions is an industry leader in the area of custom-built animatronics, androids and robotics. They are most well known for their life-like androids and special effects used in the entertainment industry. However, they also design and build non-android robots for a variety of purposes. From the mainly functional to the completely life-like, Custom Entertainment Solutions can do it all. To find out more, contact the company using the information below.
CONTACT:
Custom Entertainment Solutions, Inc.
Email: solutions@customentsolutions.com
Phone: (801) 410-4869
Fax: (801) 606-2862​
Source: Custom Entertainment Solutions
---
Categories: Computer Engineering, Arts and Entertainment, Engineering
Tags: Custom Animatronics, Custom Entertainment Solutions, Mecha X Hand, Robotic Hand, Robotic Hands
---