Cuseum Publishes First-Ever Report on Digital Revenue Streams in the Cultural Sector
Press Release
•
updated: May 18, 2021
With survey data from 500+ museum professionals, the report examines how museums and cultural organizations are generating and diversifying their revenue channels through the use of virtual programs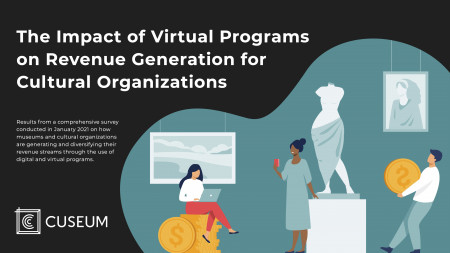 BOSTON, May 18, 2021 (Newswire.com) - In recognition of International Museum Day, Cuseum announced today the publication of a special report on the impact of virtual programs on revenue generation at cultural organizations. The report features new data from a comprehensive survey of over 500 cultural professionals conducted in early 2021.
Since its founding in 2014, Cuseum has helped hundreds of museums and cultural organizations drive visitor, member, and patron engagement by leveraging digital tools. The company has partnered with leading institutions including SFMOMA, Museum of Fine Arts Boston, Seattle Art Museum, San Antonio Zoo, and Florida Aquarium to serve digital membership cards and publish mobile apps. Cuseum has previously released acclaimed research on augmented reality, virtual reality, digital transformation, and membership strategies in the cultural sector.
With the explosive rise of virtual programs since the onset of the COVID-19 pandemic, Cuseum has observed a growing number of cultural institutions opting to monetize digital initiatives in creative ways. In response to this trend, Cuseum launched a first-of-its-kind research study to analyze how museums are monetizing digital programs, what types of virtual offerings are thriving, and the return on investment for digital initiatives.
"Since March 2020, we've witnessed the accelerated digital transformation of the cultural sector," said Brendan Ciecko, CEO and founder of Cuseum. "Digital continues to prove its capacity to deepen museum engagement and, now, it has also revealed its potential to contribute to the financial success of cultural organizations. The goal of this report is to analyze and share the preliminary data on the emerging trend of monetizing digital programs, for the benefit of the entire cultural industry."
Key Findings from the Report:
Ninety-two percent of cultural organizations offer digital programs.
Among those offering virtual programs, 73% are also charging for them in some way.
Nearly 50% of museum professionals consider revenue generation through virtual programs an urgent priority.
With participants across art museums, children's museums, history museums, gardens, science centers, zoos, and aquariums, the report examines seven different categories of virtual programs, various pricing models, and the impact of such initiatives on revenue generation at different types and sizes of cultural organizations.
"As museums seek to diversify their revenue streams, engage more expansive audiences, prioritize accessibility, and ensure financial sustainability, we hope that this report can offer fresh insights and data-driven guidance to industry leaders," added Ciecko.
Download the full report at cuseum.com/revenue-generation-report-2021.
Press Contact
press@cuseum.com
About Cuseum
Cuseum helps organizations drive visitor, member, and patron engagement using digital tools. Cuseum's software platform makes it easy for museums, attractions, and nonprofits to publish mobile apps, generate digital membership cards, and leverage data insights. Headquartered in Boston, the company is backed by leading investors including Techstars. For more information, visit www.cuseum.com or follow Cuseum on Twitter at @cuseum.
Source: Cuseum