Cuseum Launches New Member Portal Solution
Press Release
•
updated: May 11, 2021
With its rich functionalities and intuitive design, Cuseum's Member Portal offers the most seamless and unified membership experience to date.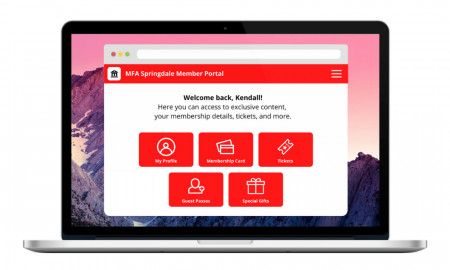 BOSTON, May 11, 2021 (Newswire.com) - Cuseum, a leading provider of software for cultural attractions, nonprofits, and membership organizations, today announced the launch of a new solution, Member Portal. Alongside Cuseum's Digital Membership and Guest Pass Referral solutions, Member Portal helps organizations enhance the member experience and drive loyalty using cutting-edge technology.
Since its founding, Cuseum has helped hundreds of cultural and nonprofit organizations drive visitor, member, and patron engagement by leveraging the power of digital. The company has partnered with leading institutions including SFMOMA, Museum of Fine Arts Boston, Florida Aquarium, White House Historical Association, and University of Tennessee to serve digital membership cards and publish mobile apps.
In the past year, Cuseum has observed the growing emphasis on digital transformation at member-serving organizations. In the era of COVID-19, institutions including museums and alumni associations have prioritized new virtual membership benefits and exclusive online content to create added digital value for members. In response to these changes, Cuseum developed a Member Portal product to operate as a central membership hub, designed to facilitate a seamless member experience and offer convenient access to digital membership benefits.
"The Member Portal represents the latest innovation in membership. It's truly a one-stop shop for any and all of your members' needs," said Brendan Ciecko, CEO & Founder of Cuseum. "Until now, the online member portal has been non-existent, riddled with unfriendly design, or filled with unnecessary complexity. Our newest product will help our partners boost member loyalty and satisfaction with the most comprehensive and user-friendly portal to date."
Cuseum's Member Portal allows organizations to offer their constituents a truly unified membership experience. In one place, members can update their personal details, review their membership level and benefits, access exclusive digital content, and redeem special gifts. In the same portal, members can download their membership cards and tickets, as well as share complimentary guest passes with their friends, family, and coworkers.
The Member Portal also addresses central challenges that have historically produced inefficiencies for organizations and diminished the member experience. "Our hope is that the Member Portal can offer a streamlined way for members to update their information, access their benefits, and enjoy the full breadth of membership, aiding both organizations and their constituents," said Ciecko.
Learn more about Cuseum's Member Portal at https://cuseum.com/member-portal
Press Contact
press@cuseum.com
About Cuseum
Cuseum helps organizations drive visitor, member, and patron engagement using digital tools. Cuseum's software platform makes it easy for museums, attractions, and nonprofits to publish mobile apps, generate digital membership cards, and leverage data insights. Headquartered in Boston, the company is backed by leading investors including Techstars. For more information visit www.cuseum.com or follow Cuseum on Twitter at @cuseum.
Source: Cuseum