Curesponse Presents Positive Preliminary Clinical Results from a Multi-Center UK Study at the AACR Meeting in Orlando, Florida
Press Release
•
May 9, 2023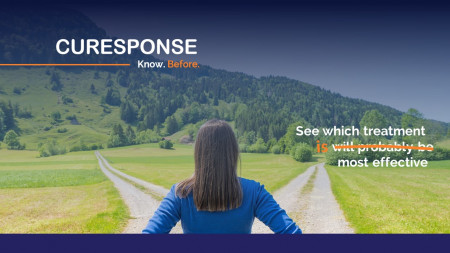 LONDON, England, May 9, 2023 (Newswire.com) - Curesponse, a commercial-stage precision oncology company, presented preliminary clinical results from a multi-center UK Study at the American Association for Cancer Research (AACR) meeting in Orlando, Florida. The study showed correlation data of the first 15 patients recruited to a pivotal clinical study at major cancer centers located in the UK, demonstrating the predictive power of the cResponse platform, an AI-driven, genomic-functional drug prioritization technology.
"We are proud to be part of the global validation of the cResponse platform that started in Israel and continues in Curesponse's laboratory in the UK, which is part of the London Cancer Hub's Innovation Gateway," said Dr. Sandra Hanks, UK Laboratory Director. "Our UK operation is looking forward to making the cResponse technology available for cancer patients in the UK in the near future."
Combined with results from patients recruited to a predictive clinical study in Israel, the total cohort demonstrates that cResponse has a 96.5% (CI 82.7%-99.8%) sensitivity and 90% (70.8%-98.8%) specificity across various solid cancer types for predicting patient response to cancer therapeutics.
"We are very pleased with the initial results of the UK study, showing that in the first 15 patients with available clinical follow-up data, the cResponse platform yields very high predictive power. We are looking forward to continuing the clinical research collaboration with Curesponse in the UK and validating the capacity of the cResponse platform to accurately determine the efficacy of oncology therapeutics for cancer patients and make the technology available for cancer patients in the UK and EU," said Dr. Jon Krell, the Principal Investigator of the study at Imperial College.
The cResponse platform combines rapid next-generation sequencing (NGS) with a proprietary functional assay that assesses the response of a cancerous tissue to various drugs and drug combinations, while preserving the tumor microenvironment (TME). The combined technology is the first personalized cancer platform that offers patients, oncologists, and pharma partners an empirical test that reflects the response of the patient's tumor to different drugs within 2 weeks from biopsy. The technology works across numerous therapeutic modalities including chemotherapy, targeted therapy, and immunotherapy.
The cResponse platform is CE marked and performed in an ISO 15189-accredited laboratory setting. The test is reimbursed by private payers in Israel for personalized cancer treatment decision guidance. cResponse will be offered to cancer patients in the UK and EU during 2023, and to patients in the USA in 2024.
For further information please contact info@curesponse.tech
Source: Curesponse