Cure ALS "Ride for Life" Marks the 20th Year of Hope for Chris Pendergast
Leading a 10 Day, 233 Mile Journey by Wheelchair from Yankee Stadium to Washington DC, Determined To Strike Out ALS, May 5-15, 2017
Press Release
-
updated: May 3, 2017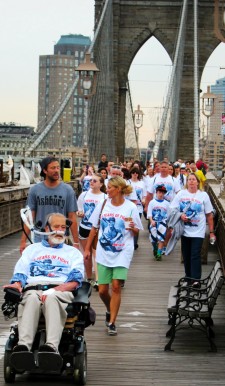 New York, New York, May 3, 2017 (Newswire.com) - ALS Ride for Life is announcing the official launch for the 20th Anniversary Annual ALS Ride for Life to create awareness and raise research funds to find a cure for Amyotrophic Lateral Sclerosis (ALS).
Founded in 1997, Ride for Life began when Chris Pendergast, who was diagnosed with ALS 1993, decided to take action against the incurable and fatal disease.  Pendergast has ridden each May for the past 19 years, during ALS Awareness Month.  Initially he made the journey from Yankee Stadium in New York to Washington, DC.  In recent years, his wheelchair journey has taken place across Long Island and New York City.  Through the years, he has created tremendous awareness, raising $7million for research, patient services and family support as well as providing the ALS community with important information.  He provides patients with genuine inspiration.
Chris stated, "I was blessed with a slow progression and lived well beyond the average prognosis of a few years.  I spent this gift of time working to find a cure, helping patients and educating others about ALS.  But I cannot do it alone, I need everyone's help.  Please make a donation or 'buy a mile' so I can get to Washington, DC and back home to my family!" 
The 2017 Ride for Life will begin Friday, May 5th from Yankee Stadium and will end May 14th in Washington, DC.  This year's Ride for Life journey will be posted and updated frequently throughout the day on the Ride for Life Facebook page.
Cure ALS Ride for Life is an opportunity for patients and supporters in all communities along the route to accompany Chris Pendergast and make a difference by creating awareness. For those unable to participate in the journey, they can show support by donating to the "Buy a Mile" campaign on the charity's website at www.ALSrideforlife.org or sharing the ALS Ride for Life Facebook page.
Additional information during THE RIDE TO LIFE journey, including interviews and photos, can be obtained by contacting ALS Ride for Life Board Vice Chairman, Dick Iannuzzi (​Cell: (631) 352-8998. Email: rcita@optonline.net) from May 4-15, 2017.
About ALS Ride for Life
ALS Ride For Life was founded in 1997 and incorporated as a tax-exempt charity according to IRS regulations in 1999. Under the articles of incorporation, our charity serves the ALS community. It is a patient driven, volunteer organization.  Its missions are to: Raise research funds to find a cure for Amyotrophic Lateral Sclerosis (ALS), support patients and their families through patient services and raise public awareness along with providing the community with the latest ALS news, information, and inspiration.
Source: ALS Ride for Life
Share:
---
Categories: Non Profit, Neurology, Chronic Diseases, Charitable Contributions
Tags: ALS, ALS Awareness Month, amyotrophic laterals sclerosis, Chris Pendergast, Ride for Life, Washington DC, Yankee Stadium
---