Cupboards of Care Focuses on Healthy Eating
Press Release
•
updated: Dec 14, 2017
Gift Cards for Low-Income Older Adults Help to Put a Dent in Food Insecurities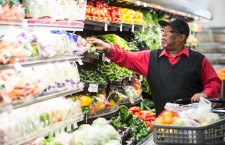 PHILADELPHIA, December 14, 2017 (Newswire.com) - When Robert Nowell goes grocery shopping, he makes a list and only buys what's on it. These days, that includes plenty of fruits, vegetables and lean meats. Nowell is a resident at Ann Thomas Presbyterian Apartments, a Presby's Inspired Life Section 202 affordable housing community, and is a participant in the organization's Cupboards of Care program. It's an initiative that provides $100 gift cards on a quarterly basis to enable seniors to purchase healthy food.
"Since I started with the Cupboards of Care program, I've lost 20 pounds, and my blood pressure is much better," said Nowell. "I'm now cooking healthier meals and feel really good about what I've accomplished since this program started."
Since I started with the Cupboards of Care program, I've lost 20 pounds, and my blood pressure is much better. Since I started with the Cupboards of Care program, I've lost 20 pounds, and my blood pressure is much better.

Robert Nowell
Cupboards of Care was started by Presby's Inspired Life over a year ago after receiving a grant from the W.W. Smith Charitable Trust and several other family foundations. More than 73 percent of residents in Presby's sponsored Affordable Housing communities report annual incomes below $10,000 a year. The goal is to help mitigate food insecurities and to provide financial support for individuals across Presby's Affordable Housing communities so they may purchase healthy food. To date, more than $117,000 has been raised for the program.
"In the past year, we've been able to provide the $100 gift cards to 58 residents each quarter," said Lynn Johnson-Porter, vice president of philanthropy at Presby's Inspired Life. "This is really just part of our ministry to provide a better life for older adults, and we'd really like to reach even more individuals."
According to a report on hunger in Philadelphia, conducted in 2015 by the Public Health Management Corporation, more than 32,000 seniors reported that they cut out meals due to a lack of money. The survey also indicated that seniors find it difficult to find fresh vegetables and fruits in their neighborhoods.
Presby has partnered with FLIK Lifestyles, a senior living dining services provider, to take Cupboards of Care beyond just providing gift cards. A nutritionist with FLIK has been holding educational workshops at the Affordable Housing communities to share healthy recipes and discuss the benefits of eating lean meats, fruits and vegetables.
"It's been so rewarding to see how appreciative the residents are in helping reeducate them on making healthy smart choices when it comes to meals," said Briana Waldie, FLIK Lifestyles nutritionist. "Most people think healthy food is expensive, but it doesn't have to be, and that's one thing I'm sharing with the participants in the program."
Robert Nowell says he's enjoyed the educational sessions, and as a result, is being more adventurous in his eating habits. As an example, he's buying and eating squash and asparagus and even makes faux mashed potatoes with turnips.
"I've discovered that food lasts much longer when you prepare meals at home instead of going out to just pick up something like fast food," said Nowell. "For me, it's all about eating right and staying away from the unhealthy food now."
ABOUT PRESBY'S INSPIRED LIFE — Presby's Inspired Life is a not-for-profit, faith-based organization that provides continuing care and Affordable Housing for more than 3,000 people 62 and better, across more than 30 communities throughout greater Philadelphia. www.PresbysInspiredLife.org
Ann Thomas Presbyterian Apartments is part of a three-building community located in Southwest Philadelphia's Kingsessing neighborhood. The community also includes Greenway Presbyterian Apartments and Mary Field Presbyterian apartments. Also known as the 58th Street Campus, the Section 202 affordable housing complex serves more than 200 adults 62 and better. In 2018, the campus will add a fourth community – Witherspoon Senior Apartments. The communities are owned and managed by Presby's Inspired Life.
Source: Presby's Inspired Life
Related Media
Additional Links