CUBO Beverages Extends Its Equity Crowdfunding Campaign to Dec. 15
Press Release
•
Dec 6, 2022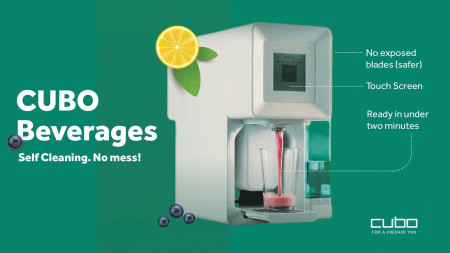 SHERMAN OAKS, Calif., December 6, 2022 (Newswire.com) - The history of technology innovation is riddled with missteps along the way to useful and innovative products. In 2016, a company called Juicero created an exciting new product to help consumers enjoy fresh juices and cold beverages. It promised to make life easier and they wooed investors to the tune of $118.5M in a raise.
Once users got their hands on the new machine, they realized all it had to offer was squeezing a bag of fruits which could be done manually as demonstrated by a Bloomberg reporter. Customers abandoned Juicero, investors lost their money and the world was left without a juice machine.
The failure of Juicero proved there is a need in the market for innovative technology for users to create fast juices, smoothies and other functional beverages. In just a few short years, CUBO Beverages has created the ultimate pod-based machine for functional beverages like smoothies, juices, booster shots, protein shakes, hot and cold lattes and more. What sets CUBO Beverages apart from all other drink machines is its patents for its innovation.
To use the CUBO machine, customers first select which pod they want to use. The CUBO team has Chefs that craft and design different fruit-based recipes that are frozen to lock in flavor and nutrients. Freezing their pods also brings their product shelf life to one year. They don't add sugar, dyes or any preservatives so customers can trust the ingredients you are consuming.
Customers can select from a wide range of recipes such as a Carrot Booster juice with a kick of ginger and cayenne pepper, a Berries Smoothie full of antioxidants or a HOT or COLD Almond Milk Matcha Latte for a slow release of energy over time. Customers select the size they want and the temperature, hot or cold. Then, they press a button and the machine goes to work utilizing its internal smart blender to craft made-to-order beverages in about a minute.
The best part about CUBO is it automatically cleans itself after every use. The blades aren't exposed to the user, so it is safe. All customers need to create delicious, functional beverages is water and electricity - and a CUBO pod.
In the last few years, the CUBO team has invested $2.5M of their own capital to create the most innovative pod-based drink machine on the market. Customers are already enjoying the CUBO machine in businesses like beauty salons, car dealership lounges, coworking spaces, corporate offices, break rooms, gyms, convenience stores, cafes, restaurants and more.
CUBO is closing its equity round on Dec. 15, 2022. They have already raised over $700K during this $1M round to scale the availability of CUBO machines and increase sales to new customers by achieving new economies of scale.
For more information on their equity fundraising campaign and to become an investor, visit https://wefunder.com/cubo.beverages.
Source: CUBO Beverages
Related Media
Tags