CSE's May Course Meets High Demand for ESG Training
Press Release
•
May 2, 2023
CSE's research verifies the need for Certified Sustainability & ESG Practitioners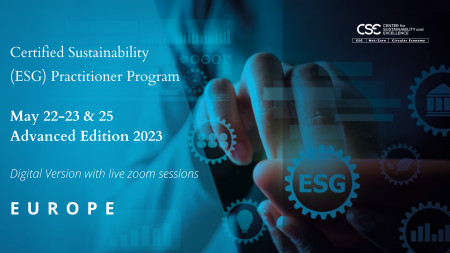 CHICAGO, May 2, 2023 (Newswire.com) - As the G20 countries are collectively responsible for 80% of global emissions, the aim of reducing the emissions by 55% by 2030, is at the top of the corporate agenda. This requires input from all sectors of society across the globe, including corporate actors, who are key in the achievement of the Net-Zero goal.
CSE's recent research on "How ESG influence profitability in FT 500 companies and most common ESG practices & guidelines used" examined the ESG practices and commitments of more than 400 FT 500 companies in N. America and Europe from 31 sectors with high percentage of profitability. Its findings verified that there is an increased influence between financial performance, brand credibility and ESG good practices.
ESG has become a crucial tool for companies looking to future-proof their commitment to sustainable growth and responsible business practices. And since investors use ESG to ensure that the companies they're investing in are engaging in sustainable and ethical business practices, it is imperative for all types of enterprises to know how to use them effectively. Urban centers need an enormous influx of sustainability-trained staff. ESG talent is in high demand across numerous industries. The emergence of ESG has presented businesses, board members and job seekers with one of the most significant opportunities since the era of digital transformation. Additionally, companies need leaders and board members who understand what is involved to succeed in this space.
CSE's practitioner program offers Sustainability and Corporate Responsibility training, which more than 90% of FORTUNE 500 senior managers and VPs have attended.
EUROPE, Certified Sustainability (ESG) Practitioner Program, Advanced Edition 2023, May 22-23 & 25
CSE offers a 15% discount to all the readers. Use the promo code EXTRA15 to register in the link above (expiration date: May 15, 2023).
CSE is accredited by CMI and CPD to provide global trainings to Sustainability professionals and is a GRI-certified training provider. It has trained and coached over 9,000 professionals across the globe, in areas such as ESG, Net-Zero, carbon footprint & life cycle analysis and climate change leadership.
CSE's trainings start and finish by making the business case for sustainability ESG. If a company cannot advance financially, it can't help its community of stakeholders. That is why so many leading organizations send attendees to these trainings. CSE has worked with ROCHE, European Investment Bank, ENESEL Shipping, HENKEL, SHELL, HONEYWELL, DSV Panalpina, BAXTER Healthcare, MORGAN Advanced Materials, MORRISON Energy Services, ØRSTED Global, U-Earth Biotech, European Climate Foundation, AkzoNobel, ING Belgium, SODEXO and others and has excellent feedback!
Contact: communications@cse-net.org
About CSE
CSE is one of the leading ESG Consulting and Educational organizations specializing in maximizing social, economic and environmental impact. CSE helps FORTUNE 500 and other organizations around the globe improve their ESG Ratings and create purpose-driven Strategies and ESG Reports.
Source: CSE