Cryptocurrency Merchant Adoption in the US Receives a New Boost as Paytomat Enters the Market
The European software provider for cryptocurrency payments launched in the US offering merchants to accept most popular cryptocurrencies with zero fees
Press Release
-
updated: Nov 7, 2018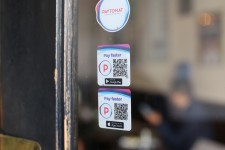 LOS ANGELES, November 7, 2018 (Newswire.com) - Paytomat, the blockchain-based software provider for cryptocurrency payments, announced its launch on the US market. The first place to use Paytomat is the legendary Insomnia in LA, called the "truest writers' café in the city." Having been closed for renovation, Insomnia opened its doors on Tuesday, November 6, and introduced several innovations – including the possibility to make payments with cryptocurrency.
"We kicked-off in LA with the goal to actively expand across the States," – Yurii Olentyr, Paytomat CEO, said. – "In partnership with the American Nightlife Association we're helping retailers expand revenue streams through the leverage of new technologies. By bridging the gap between traditional businesses and the blockchain world, we build the model of the future economy, create real-life application for cryptocurrency, and bring unique incentives for all market participants to use it as an everyday payment method."
Lev Filimonov, Chief Sales and Marketing Officer, ANA, said, "The US is one of the largest cryptocurrency markets in the world with around 9 percent of Americans owning digital assets, according to Dalia Research. This figure is estimated to double in the near future. Cryptocurrency for everyday purchases can solve many payment issues we are facing during our daily operations, bringing security, speed and independency. I believe any business which accepts cryptocurrency has a chance to attract that 9 percent of American hodlers to become their clients."
Well-established in Europe and already used by hundreds of merchants, Paytomat offers a wide variety of free solutions for retail, e-commerce businesses and consumers. With no need to invest into new hardware or software, merchants can quickly integrate cryptocurrency payments into their existing business processes. Paytomat solutions include a multicurrency wallet (available for iOS and Android), Merchant app (Android; iOS), modules for POS systems, e-commerce and shopping cart plugins. Small size merchants, such as grocery market businesses or sole traders, can use a merchant QR – a single QR with embedded business ID, transaction ID and its amount.
Paytomat Core currently supports 18 cryptocurrencies: Dash (DASH), NEM (XEM), Bitcoin (BTC), Ether (ETH), Waves (WAVES), Litecoin (LTC), ZCoin (XZC), Horizen (ZEN), Bitcoin Cash (BCH), Dimecoin (DIME), Nano (NANO), Decred (DCR), Bitcoin Gold (BTG), DigiByte (DGB), Bitcore (BTX), BTC Lite (BTCL), PIVX and EOS, with their list continuously expanding.
Join the Paytomat community join Telegram: https://t.me/paytomat. Follow the Paytomat Twitter for the latest news: https://twitter.com/paytomat.
About Paytomat
Paytomat is a set of blockchain software solutions based on EOS, created to help merchants, consumers and cryptocore teams to find each other and create real life traction for cryptocurrencies as an emerging method of everyday payments. Paytomat is designed to combine payment infrastructure, user-friendly tools and additional incentives in order to expand globally through the network of regional leaders. For more information visit https://paytomat.com. Media contacts: media@paytomat.com.
About American Nightlife Association
ANA protects and advocates the positive economic, social and cultural contributions of the nightlife & hospitality industry. The American Nightlife Association is establishing a strong united collaborative voice, with government and neighborhood organizations; to develop 'best practices' standards, education, training and certification - to identify and de-escalate potential problems. ANA's community involvement includes fundraising for educational event promotions, promoting neighborhood districts, recognizing industry leaders, developing networking and employment opportunities. The American Nightlife Association provides Nightlife Professionals the leading source for news, trends, tools, resources, and strategies to increase revenues, and address political challenges. For more information, please visit: http://www.nciaa.com.
Source: Paytomat
Share:
---
Categories: Business Technology, Retail
Tags: bitcoin, blockchain, cryptocurrency, decentralized app, e-commerce, fintech, innovation, payment gateway, payments, POS, retail
---