Crime Reduction Film 'Street Stars' Finally Released
'Street Stars: A Crime Reduction Theory' is Best Tool Yet for Cities, Activists
Press Release
-
updated: Jun 18, 2017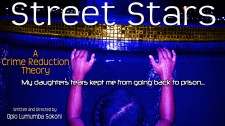 Jacksonville, United States, June 18, 2017 (Newswire.com) - A new documentary that looks at solutions to crime and violence has been released (June 16, 2017). This first of its kind film, brings together leaders, activists and people who have lived a street life of crime. The activist film, "Street Stars: A Crime Reduction Theory" documents evidence-based solutions as well as some stark responses to a myriad of questions related to the root causes of crime and violence.  Street Stars was released digitally via Vimeo and can be viewed at www.vimeo.com/ondemand/streetstars.
           The director of the film is criminology professor and Howard law school graduate Opio Sokoni. His last film project was about Bessie Coleman – the first black woman to fly an airplane. The pioneering aviator crashed and died in 1926 one day before a big airshow in Jacksonville, Florida. This city is also the scene of much of his current film. He stuck with his trademark use of incredible independent music - mainly from Portland, Oregon artists. Music with messages is Sokoni's strategy of helping to place front and center some evidenced-based programs that are working in communities. 
            "We started making the Street Stars film in mid-2015 and finally got it done," says Opio. He continued, "I just think about that family who, possibly because of this film, will not have to experience a tragedy." Federal judge Brian Davis, former Mayor John Peyton, community developer Paul Tutwiler and former Jaguars player Tony Boselli all appear in the film. In addition, various successful men and women who have experienced the pitfalls of that life provide invaluable dialogue. Another great addition to the project is local music group Cutt Circle. Their viral music videos deal with the high-pressure circumstances of the streets. Their contributions to the discussions around crime and violence is extraordinary. 
            The two-hour film has a run time of 2 hours. The Director's Cut has strong language. A "16 and Up" rating is suggested by the director for the film. Viewers will be able to log on to www.filmingstreetstars.com and watch the film on cell phones, computers and on their HD TVs at home. Sokoni says he hopes his city and others that are experiencing high levels of crime will look at Street Stars: A Crime Reduction Theory. He plans to market it in the top 20 most violent cities in the United States. "It is my hope that practitioners and people who can reach other people in power or on the streets will see this and be even more inspired to take action, says Opio Sokoni.
Source: Street Stars: A Crime Reduction Theory Film Project
Share:
---
Categories: Movies, Politics, Criminal Behavior
Tags: crime and violence, cutt circle, desi varner, duval county, florida, jacksonville, lion tigers and bears, opio sokoni, solutions, street stars a crime reduction theory, trump, www.filmingstreetstars.com
---