CRE Datasource, a New Commercial Real Estate Site, Makes It Easier for Agents to Sell and Lease Properties With More Control Over Than Ever Before
Agents demanded a solution that was easier to use and didn't come with the same costs - CRE Datasource heard them.
Press Release
-
updated: Apr 19, 2017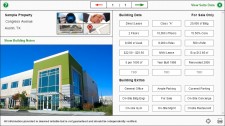 Austin, TX, April 19, 2017 (Newswire.com) - CRE Datasource LLC was designed to streamline the way commercial real estate owners connect with potential customers.
Currently, it's standard procedure for brokers to gather information about properties and then call agents to have them fill in the details or provide updates. They then turn around and sell this information to the brokerage community.
That process results in inaccurate information that agents are charged exorbitant amounts to access, despite being limited to only listings from just one city.
With CRE Datasource, agents are given full access to provide information about their properties. They can upload photos, videos, floor plans, and even high-quality Google virtual tours. If at any point they need to update the listing, they have 24/7 access to do so.
This makes the platform much more powerful for all parties involved. Yet, it only costs agents $5 per month to use – and is free for the public to search.
The company even offers their portal and database to members free of charge. Agents can put the portal on their website so visitors can view their properties with all the high-quality features found on the CRE Datasource website, but no sign of branding whatsoever.
"Whether you're marketing a million-square-foot high-rise or a small strip mall, every customer benefits from the same amount of exposure and user-friendly experience," said founder, Gregg Sudduth.
Although the company is new, the demand has been there for years and years now. Alternative sites have been bogged down with complicated interfaces and limited reach. This new database doesn't restrict the public, so people can search for properties anywhere in the country. 
CRE Datasource is open for business and agents have already begun adding their listings to the database. As it grows in size and agents begin sharing the portal on their own sites, the exposure everyone gets will increase as well exponential.
The site is now live. You can visit it at CREDatasource.com. Among other things, it features training videos to help new users begin making the most of their database right away.
About CRE Datasource LLC: CRE Datasource is making it easier than ever for agents to sell and lease commercial properties. Members can post the company's unique search portal right on their sites for free and offer visitors full access to the CRE Datasource database without any branding.  
Visit https://credatasource.com to learn more or contact gregg@credatasource.com with any questions about this exciting new website.
Source: CRE Datasource LLC
Share:
---
Categories: Asset Management, Real Estate, Database Management Systems
Tags: commercial property for lease, executive suites, industrial buildings for lease, office space rental, warehouse space for rent
---